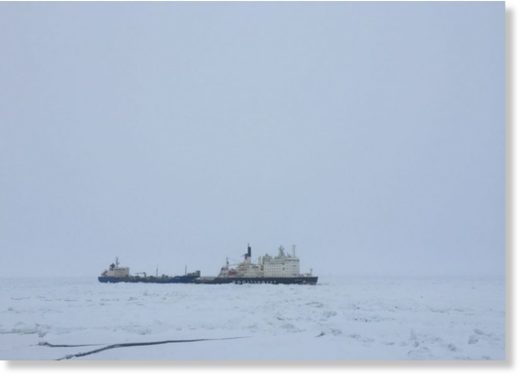 Shipping in the Gulf of Ob is paralysed and the situation complicated, icebreaker company Rosatomflot says.
It is late June, but the winter has not abandoned the Gulf of Ob. The shallow bay, which houses two of Russia's biggest Arctic out-shipment terminals for oil and gas
, remains packed with fast ice.
It has created a complicated situation, Rosatomflot says. The state company which manages the Russian nuclear-powered icebreakers, confirms that independent shipping in the area is paralysed and that LNG carriers and tankers are stuck.
The shipping companies had expected the Gulf of Ob to be free of ice in the course of June and that icebreaker assistance would not be necessary. They were wrong.
According to Rosatomflot, there appears to be a need for icebreaker services in the area at least until after the first week of July. There are currently two nuclear-powered icebreakers in the Gulf of Ob, the
Taymyr
and the
Vaygach
. In addition, there are several smaller tugs and icebreakers working in the waters around the Sabetta port.
The Yamal LNG plant is fully dependent on smooth shipping to and from the port of Sabetta. A fleet of 15 powerful top ice-class carriers are being built for the project. The ships are capable of independently breaking through more than two meter thick ice. Commercial shipments from Sabetta started in early December 2017.