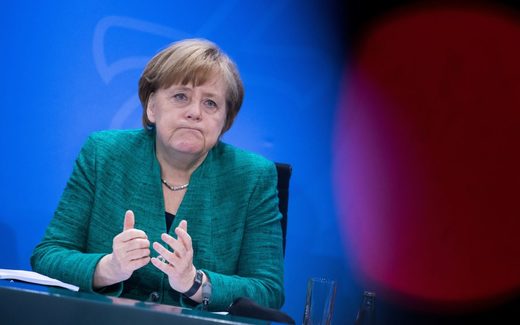 Angela Merkel's conservative alliance may splinter in a row over immigration, an ally of the German chancellor said on Friday, as the third party in her fragile government suggested its patience was wearing thin.
The dispute between Merkel's Christian Democrats (CDU) and their Bavarian Christian Social Union (CSU) sister party threatens the future of her coalition
three months after it took office
, just as European divisions over migrants are causing rifts between EU partners.
"I believe (Merkel) will try to the very end to find unity in the matter," said CDU home affairs spokesman Mathias Middelberg. Asked if the alliance with the CSU could shatter, he told Deutschlandfunk radio: "That can't be fully ruled out."
Middelberg said the vast majority of CDU politicians backed Merkel in wanting to find a European solution to the migration issue in the two weeks ahead of a June 28-29 EU summit.
But the CSU does not want to wait and is urging Germany to take unilateral action.
Bavaria was on the frontline of a migration crisis in 2015, when an "open door" policy adopted by Merkel led to around a million refugees flooding into Germany.
Many conservatives held that policy responsible for a surge in support for the far-right Alternative for Germany (AfD), the main opposition party since national elections in September.
CSU Interior Minister Horst Seehofer, whose party faces a regional election in October, now wants Germany to refuse entry to migrants who have already registered in countries further south, a plan that Merkel opposes.
As a compromise, the CDU proposes turning away at the border migrants who have already applied for asylum and been rejected. The CDU also suggests forging bilateral deals to make it possible to send back people who have already applied for asylum in another EU country.
Bavarian CSU premier Markus Soeder - widely considered to want to wrest the CSU party chairmanship from Seehofer - stood by that proposal on Friday. "We have to listen to the people," he told mass-circulation daily Bild.
A poll for broadcaster ARD published on Thursday found that
62 percent of Germans believed refugees without papers should not be allowed in.
"NOT GAME OF THRONES"
Veteran CSU politician Hans-Peter Friedrich was optimistic the dispute would be settled
, telling broadcaster RTL there was agreement on 62 of the 63 points in Seehofer's plan, adding: "There's still a problem on one point but we'll manage it."
Economy Minister Peter Altmaier of the CDU said he was convinced the sister parties could come to an agreement.
The conservatives' centre-left coalition ally, the Social Democrats (SPD), said the dispute - linked by many to the CSU's desire to improve its chances in Bavaria's elections and the battle for succession with the party - needed to be settled.
SPD Finance Minister Olaf Scholz said: "The task of governing our country is not an episode of
Game of Thrones
, but a very serious matter. Those involved should not forget that."
SPD leaders are due to meet on Monday to assess the dispute among the conservatives, a party source said.
A source in Merkel's CDU denied a report in the
Rheinische Post
newspaper that said Volker Kauder, the head of the conservative benches in parliament, had asked Wolfgang Schaeuble, head of the lower house Bundestag, to mediate.
The parliamentary president traditionally steers clear of daily political issues.
The CSU fears anti-immigration sentiment could bring to an end its decades-old domination of Bavaria's government.
Merkel says its plan would tie her hands as she seeks agreement on a proposal to share the refugee burden more equitably across the European Union, where another row over immigration has damaged ties between two other core member states, Italy and France.
If Seehofer pushes ahead with the plan under his authority as interior minister, Merkel could be forced to dismiss him, further fraying the coalition but potentially helping the CSU in its regional battle with the AfD.