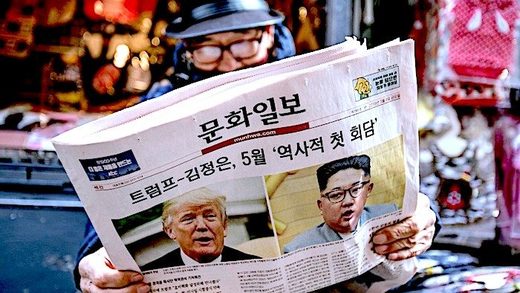 World governments reacted positively to the summit between US President Donald Trump and North Korean leader Kim Jong-un. But Iran had a word of warning for Pyongyang following the collapse of Tehran's nuclear deal with the West earlier this year.
China's Foreign Minister Wang Yi said the meeting was "creating a new history".
"The United States and North Korea have been in a state of antagonism for more than half a century," Wang said. "Today, that the two countries' highest leaders can sit together and have equal talks, has important and positive meaning, and is creating a new history."
At the ministry's daily briefing, spokesman Geng Shuang said China "welcomes and supports" the talks and that the United Nations Security Council's sanctions against the North could be suspended or lifted in accordance with the North's actions. "Sanctions are not an end," Geng said.
"We believe the Security Council should make efforts to support the diplomat efforts at the present time."
UN Secretary General Antonio Guterres on Tuesday hailed the the meeting as "an important milestone" in advancing peace and "complete and verifiable denuclearisation on the Korean Peninsula",
and called on the international community to throw their support behind the full implementation of the agreement.
"The secretary general urges all concerned parties to seize this momentous opportunity and reiterates his readiness to fully support the ongoing process," his spokesman, Stephane Dujarric, said in a statement.
Dujarric said that it would take "cooperation, compromise and a common cause" to see the agreement through, as well as "patience and support from the global community"
.
But the spokesman for the Iranian government warned Kim that Trump could unexpectedly nullify any nuclear deal.
"We are facing a man who revokes his signature while abroad," the Fars news agency quoted Mohammad Bagher Nobakht as saying. The US pulled out of the landmark 2015 nuclear deal with Iran in May. Trump often described the agreement as the "worst deal ever".
Russian Foreign Minister Sergei Lavrov said he approved of Trump's meeting with Kim,
Interfax reported.
"The mere fact of the meeting between the leaders of the United States and North Korea is positive,"
he said.
But Russia's Deputy Foreign Minister Sergei Ryabkov said as far as the deal struck, the "devil was in the details".
"Now we can only welcome the fact that an important step forward has been made," Ryabkov said. "Of course the devil is in the detail, and we have yet to delve into specifics. But the impulse, as far as we understand, has been given."
Ryabkov said Russia was prepared to help with the denuclearisation and also hoped the talks would unblock normal economic cooperation.
Japanese Prime Minister Shinzo Abe expressed hope that the unprecedented summit will lead to a successful resolution of the North Korean nuclear and missile issues. "North Korea has rich [natural] resources and a diligent workforce. It will have a bright future if it treads the right path," Abe said. He was expected to hold phone talks with Trump to be briefed on the outcome of the summit.
Officials said the issue of Japanese nationals abducted by the North would still be a priority for the government.
"We have not changed our determination to settle [the abduction issue] by directly negotiating with North Korea," Chief Cabinet Secretary Yoshihide Suga told a press conference. "We hope North Korea will change its policies as a responsible member of the international community following the US-North Korean summit."
South Korean President Moon Jae-in said he "could hardly sleep" in anticipation of the meeting and expressed hope for "complete denuclearisation and peace". "All the attention of our people is on Singapore," he told cabinet ministers. "I too, could hardly sleep last night."
New Malaysian Prime Minister Mahathir Mohamad, on a visit to Tokyo, said "I hope that both parties will accept the fact that, in negotiation, both sides must be prepared to give in certain issues if they expect to reach a good conclusion."
China wants to ensure its interests are preserved in any negotiations, namely that they don't result in a unified Korea that is pro-American.
An editorial in the official English-language
China Daily
emphasised China's role in bringing Trump and Kim together. It called on them to maintain the positive momentum.
"This would not only reward all those who have spared no efforts in their attempts to make their meeting a reality, it would also enable both to hail it as a success," the editorial read in part.
Hu Xijin, the editor of influential Communist Party newspaper
Global Times
, said that he was "truly happy for this moment". He dismissed as cynical those Chinese internet users who asked whether Beijing had been marginalised in these talks. "It's petty mind to guess that Beijing saw the summit as sour grapes," he said on Twitter.
Ivanka Trump's 'Chinese proverb' tweet leaves China baffled.

Comment: The phrase: "Those who say it can not be done, should not interrupt those doing it" is apparently not of Chinese origin.


"I think these people really grew up in negative energy," he wrote on his Sina Weibo microblog. "They should see how all the major media outlets around the world are commenting that China's role in solving the denuclearisation question is irreplaceable."
Human Rights Watch criticised the meeting, complaining that there was no mention of North Korea's human rights abuses.
"Kim Jong-un's nuclear weapons & missile technology made possible by forced labor of #NorthKorea's people, & diversion of resources from food to weapons," Deputy Asia Director Phil Robertson tweeted. "So why no human rights mention in #TrumpKimSummit agreement? North Korean people suffer endlessly."
But the EU praised the summit as a "crucial and necessary step", saying it indicated "complete denuclearisation" of the Korean peninsula could be achieved.
"This summit was a crucial and necessary step to build upon the positive developments achieved in inter-Korean relations and on the peninsula so far,"
the
EU's diplomatic chief Federica Mogherini
said in a statement.
And at home,
US Senate Democratic leader Chuck Schumer faulted the agreement,
saying it was short on details and that Trump gave up "substantial leverage" in the talks.
Some Republican lawmakers and Trump administration officials have said
any agreement with North Korea would be submitted as a treaty needing approval by two-thirds of the US Senate, meaning it would need significant support from among Schumer's fellow Democrats to be enacted.