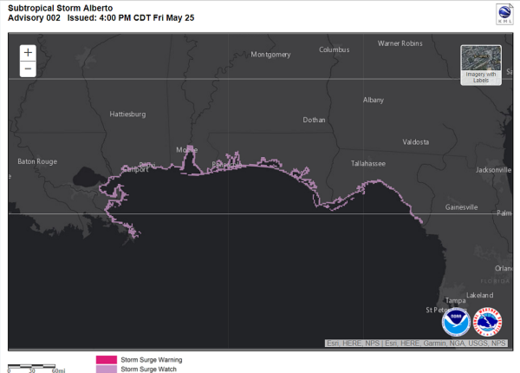 Wind and storm surge watches went up across the Florida Gulf coast late Friday as Alberto continued creeping north.
The western tip of Florida's Panhandle was at the center of the projected impact zone and while Alberto's strongest winds were expected to stay well offshore until then, forecasters cautioned the path potentially could shift over the next few days. Either way, much of the state, including the Florida Keys and mainland South Florida, was likely in for a holiday weekend drenching from a storm that formed before hurricane season officially begins on June 1.
Along the the southwest coast, surf and surge could also pile seawater atop the rain. And once it does makes landfall, forecasters were concerned it could stall and trigger worse flooding.
"When it gets inland, it will be a slow mover, so this could be a horrific flooding event up there," National Hurricane Center spokesman Dennis Feltgen said.
In an
11 p.m. advisory
, forecasters said the storm, located 110 miles southeast of Cozumel, Mexico, was heading east about 5 mph with sustained 40 mph winds. The storm was expected to turn north overnight and into Saturday morning, passing near the Yucatan coast before approaching the Gulf coast Monday.
Forecasters said they expected dry air to keep the storm from strengthening into the hurricane, but warned that could change.
Broad winds that now extend 140 miles from the storm's center could help push a two to four-foot storm surge across parts of the Gulf coast, where a storm surge watch extended from Florida's Big Bend to the mouth of the Mississippi River.
Tropical storm conditions may be felt within 48 hours along the Panhandle to eastern Louisiana, forecasters said.
Heavy rain remains the storm's biggest threat, with the Keys expected to get four to eight inches. Up to 12 inches could fall in some locations.
Between four and six inches could fall along the coast between Fort Lauderdale and Flamingo, according to the National Weather Service, which issued a flood watch for South Florida from 8 a.m. Saturday to 8 p.m. Sunday.
Cuba and the Yucatán Peninsula could get 10 to 15 inches, with up to 25 inches in harder hit locations, increasing the risk of dangerous flash floods.