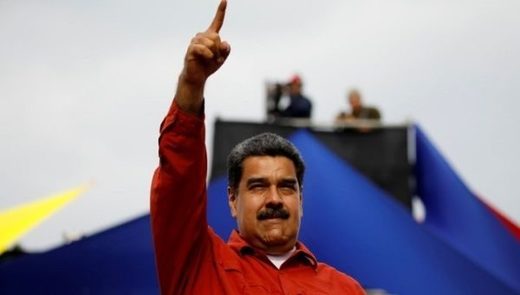 The question in the International Consulting Services survey was: 'If elections were today, who would you vote for?'
A recent poll by International Consulting Services (ICS) reveals that Venezuela's incumbent President Nicolas Maduro, candidate for the Broad Front for the Homeland, is leading vote intention with 55.9 percent of support for the upcoming May 20 elections.
The poll conducted between April 20 and May 4 places
Henri Falcon of the Progressive Advance party in second place with 25.4 percent of support of likely voters, and Javier Bertucci, Hope for Change candidate, in third with 16.2 percent of support.
On Wednesday
Javier Bertucci
announced he won't step down to support a unified opposition candidacy led by Henri Falcon.
"It would be a huge lie to meet with the other candidate and tell him that my votes are going to go for his candidacy, because they won't," Bertucci said.
The right-wing opposition coalition known as the Democratic Unity Roundtable (MUD) has called on its supporters to boycott the elections and
abstain from voting
.
According to the poll, 67.5 percent of the surveyed population said they are "absolutely certain" they will participate in the May 20 elections. Around four percent said they are certain they will not participate, and 1.3 percent remain unsure.
Support for the ruling United Socialist Party of Venezuela (PSUV, for its Spanish acronym) continues to the the most important political force in Venezuela, with over 43.8 percent of voters identifying with the party. The PSUV has over 6.43 million members.
A previous poll from 30.11 Consultores also showed Maduro leading voter intention with 48.4 percent of support. According to the same poll, Falcon is in second place with 36.3 percent of support.
Almost 14 million Venezuelans are expected to cast their vote on May 20 to elect the next president and representatives to the regional legislative councils.