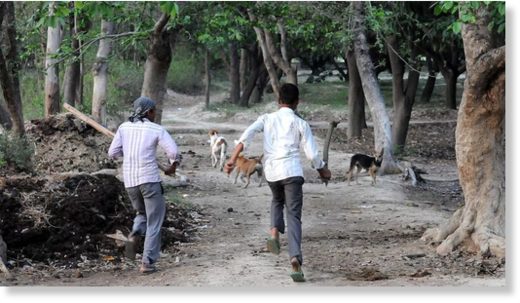 In yet another fatal attack, a pack of feral dogs killed another child in Sitapur district's Maheshpur Chilwara village on Sunday, taking the toll to 13 in the last six months, officials said.
District magistrate, Sitapur, Sheetal Verma said the 12-year-old girl Reena was attacked by a pack of seven dogs when she was going to the fields alone at around 7 am on Sunday.

"The girl died on the spot.
I have asked the senior administrative officials to visit the village and meet the girl's family," she added.
Agitated over the death, at least 300 villagers blocked traffic for about half an hour on the national highway and demanded action to rein in feral dogs. The administration deployed police force near the highway to ensure law and order.
Reena's father Chhanga said he would not perform the last rites of her daughter if the district administration did not assure the people that it would take effective steps to curb the menace. The police have sent the girl's body for post-mortem.
Chief minister Yogi Adityanath had visited Sitapur on Friday to meet family members of the children who had been attacked by feral dogs.
The DM has also ordered a fresh exercise to capture and sterilise dogs in the affected areas.
"Committees of local residents have been formed to make people aware about ways to prevent dog attacks," Verma said.
Last week, the UP police decided to deploy drones and use night vision devices to track and trap feral dogs in villages around Sitapur.
At least 13 children in the age group of 7-13 years have died in feral dog attacks since November last year. Out of these,
seven deaths have taken place this month.
While the district administration has roped in various agencies to curb the attacks, resentment is brewing amongst villagers as dogs continue to attack children.
On the direction of the CM, 22 villages affected by the attacks are being made open defecation free.
Experts from the Indian Veterinary Research Institute (IVRI) and World Wildlife Fund (WWF) have also been roped in to suggest a scientific solution to the problem.
Last week, the Uttar Pradesh forest department shot down the Sitapur district administration to drop the idea to relocate feral dogs to the Pilibhit Tiger Reserve (PTR) and warned of taking action against anyone doing so.