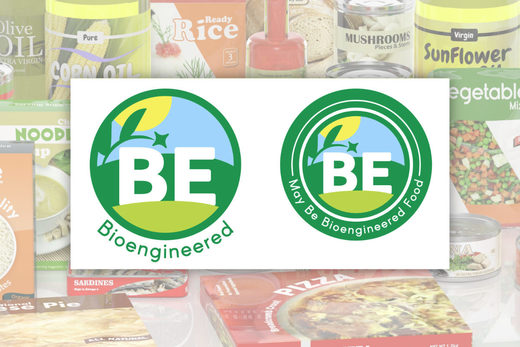 "Today, the USDA
released
its new GMO labeling rule. This rule will help keep consumers in the dark as it is intended. It's filled with loopholes and would allow manufacturers to use digital codes and other technology that make GMO disclosure more difficult for consumers than simple labels.
"The rule refers to GMOs as 'bioengineered,' or BE foods. This is a deceptive strategy because most consumers don't know what that means. The proposed sun and flower-based 'BE' labels manufactures could elect to use in their disclosure suggest to consumers the product is natural and sustainable, when genetically engineered foods are anything but.
"One of the many loopholes, for example, would allow a company that knowingly sells canned GMO sweetcorn to use a label that says 'may be bioengineered' because less than 85% of sweetcorn grown is genetically engineered.
"What's more, the fact that companies can elect to use digital QR codes or text messages is a huge issue, as some people don't have access to smartphones needed to scan the codes, or access to a good signal while shopping. Additionally, the proposed digital disclosures are a minefield for privacy concerns. Consumers are more interested than ever in knowing how their food was produced, but this proposal would be a big step backwards from commonsense, transparent GMO labeling measures that some states were already adopting. It's a gift to industry from our now Secretary of State, Mike Pompeo, who authored the legislation to squash the Vermont GMO labeling law and mandatory labels."
Comment:
When considering how 'effective' the use of digital QR codes are for consumer information regarding GMO or bioengineered foods, the following article written by Dr. Jeffery Smith back in 2010 gives some insight:
PLU Codes Do Not Indicate Genetically Modified Produce
The 4-digit PLU codes on the sometimes-pain-in-the-neck labels glued to apples, for example, tell the checkout lady which is a small Fuji (4129) and which is a Honeycrisp (3283). She'll know what to charge you and the inventory elves will know what's what. If there's a 5-digit code starting with 9, then it's organic.

These numbers, organized by the Produce Marketing Association, have nothing to do with you. According to Kathy Means, Association Vice President of Public Relations and Government Affairs, this is an optional convention for retailers and their supplier and is not designed as a communication tool for customers. If you want to know which items are organic, look for the word Organic; and stop squinting at tiny codes.



GMO codes are hypothetical



Those that run PLU-universe figured that someday some retailer might want to distinguish between a GMO and a non-GMO for price or inventory purposes. So they created a convention of 5 digits starting with an 8, just in case it catches on. But it hasn't. No one uses that number 8 as far as we can tell. And why would they? Most Americans say they would avoid GMOs if they were labeled.