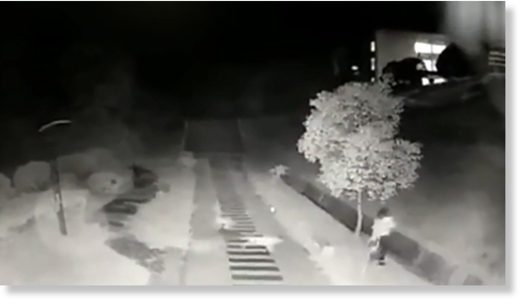 A Chinese university says it has hired professional handlers to round up stray dogs on its campus and give them to animal welfare groups
after two students were attacked in separate incidents this week.
Xiangtan University, in central Hunan province, will also step up security patrols on campus to tackle the problem but stressed it would not cull the dogs,
The Beijing News
reported on Thursday.
The university had to abandon a controversial plan to cull stray dogs last year after animal rights activists campaigned against it, according to the report.
The latest action was prompted by two attacks, one of them caught on security footage and posted on Weibo, China's Twitter, where it has been watched more than two million times.
The video shows a female student walking alone along a path on Tuesday around 9pm when a pack of six dogs suddenly appear from nearby bushes and run towards her.
The student is seen trying to escape from the animals but she trips as she attempts to cross a ditch and falls to the ground. She picks herself up and tries to run up a slope but fails, instead sprinting in the opposite direction as the dogs attack her.
The next afternoon, another female student was also bitten by stray dogs on campus, leaving her with injuries to her right leg, the university said in a statement.
It did not mention the first student's injuries but said both women were treated in hospital and had since returned to classes.
The university said it had "sent in professionals to clear away the stray dogs", adding that the animals were being treated humanely.
"We are handling the problem of stray dogs on campus and want to stress that we are not doing this in a brutal way - we are not killing the dogs, they are being sent to animal welfare organisations," it said.