Rescue in the snow for the gendarmes of Luchon in the Pyrenees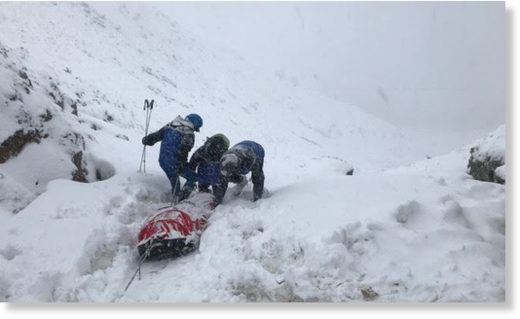 Gendarmes in Luchon intervened this Monday to rescue a couple of hikers buried under snow, one of whom suffered a broken ankle. The intervention took place on the descent of the Pic du Cagire (1912m).
The hiker slipped in the middle of the afternoon and injured her left ankle not far from the Mourtis resort in the south of the Haute Garonne department.
"Initially they thought they could reach the Col de Mente where their vehicle is. But with a growing pain and the weather worsening, the couple resigned themselves to contacting our services for help at around 5:30pm," said the gendarmes.


Despite it "snowing like in winter,"
a team of five gendarmes went to the location. The victim was taken down slopes
where 20cm of fresh snow had accumulated.
Translated by Sott.net from here