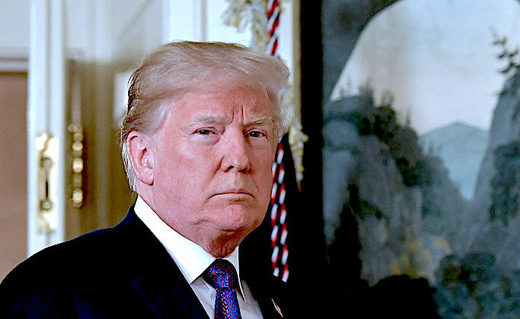 US President Donald Trump has taken a break from this weekend's bombing of Syria to once again decry the federal investigation into one of his many, many lawyers, whose offices were raided earlier this week.
Trump made the remarks in reference to the
FBI raids on the offices of attorney Michael Cohen
on Tuesday.
Many of Cohen's private business records and correspondences were seized in the raid, ostensibly launched under the guise of a bank fraud investigation.
"Attorney Client privilege is now a thing of the past. I have many (too many!) lawyers and they are probably wondering when their offices, and even homes, are going to be raided with everything, including their phones and computers, taken. All lawyers are deflated and concerned!" Trump wrote.
Earlier in the week, Cohen's own attorney, Todd Harrison, tried and failed to obtain a temporary restraining order to prevent investigators from sifting through the potentially "thousands of privileged communications." Harrison was accused by prosecutors of employing delaying tactics, but
US District Judge Kimba Wood ordered Cohen to appear in court Monday after three separate hearings on Friday.
In the aftermath of the US-led coalition strikes against Syria in the early hours of Saturday morning, many of Trump's supporters expressed their sense of betrayal online, while many of
his most vocal critics decried the military intervention as a simple case of 'smoke and mirrors'
to detract from the multitude of domestic scandals, including the Mueller investigation, the FBI raids on Cohen's offices, and the legal battle over the non-disclosure agreement with Stormy Daniels.
Just as the news cycle was returning to domestic affairs in the US, Trump returned to a few of his recent favorite targets including Hillary Clinton and James Comey, whom he described as a "slimeball" over the course of the past few days, employing his scattershot, stream-of-consciousness approach to social media management.
"Unbelievably, James Comey states that Polls, where Crooked Hillary was leading, were a factor in the handling (stupidly) of the Clinton Email probe. In other words, he was making decisions based on the fact that he thought she was going to win, and he wanted a job. Slimeball!"
Trump's initial use of the word "slimeball" to describe Comey in a tweet on April 13 triggered a 60,000 percent increase in online queries for the word according to
Merriam-Webster
, who define the word as meaning, "a morally repulsive or odious person."
Former FBi Director Comey is due to give his
first interview
since being unceremoniously fired in May 2017 on Sunday evening.
The interview is scheduled to take place just days before Comey's memoirs are due to be published, which could well add to Trump's growing list of woes.
The full extent of Trump's ire at Comey's perceived betrayal was expressed by White House Press Secretary Sarah Huckabee Sanders at a press conference held Friday.
"The American people see right through the blatant lies of a self-admitted leaker. This is nothing more than a poorly-executed PR stunt by Comey to desperately rehabilitate his tattered reputation and enrich his own bank account pedaling a book that belongs in the bargain bin of the fiction section," Sanders told the press pool.
"Instead of being remembered as a dedicated servant in the pursuit of justice like so many of his other colleagues at the FBI, Comey will forever be known as a disgraced partisan hack that broke his sacred trust with the President of the United States, the dedicated agents of the FBI, and the American people he vowed to faithfully serve. One of the president's greatest achievements will go down as firing director James Comey," she concluded.