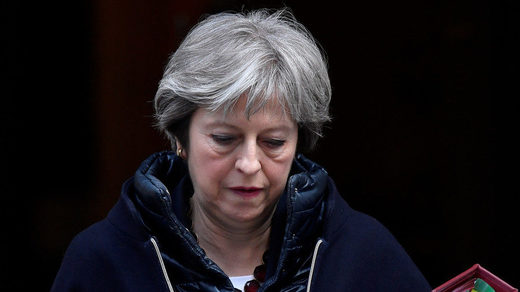 British Prime Minister Theresa May is reportedly not keen on joining the US in its potential strike against Syria. The PM told Donald Trump she will not act until there's more evidence of Syria's culpability, the
Times
reports.
On Monday, US President Donald Trump said that he was "very strongly, very seriously" considering a military option in Syria, promising to make a "major decision" within up to 48 hours.
While the heating-up rhetoric from Washington suggests a military response may be imminent, the UK might be second-guessing its strategic partner now. According to a
report
by the
Times
on Wednesday,
May told Trump that she would not risk pounding Syria with missiles until she sees more compelling proof of Damascus's culpability in the incident on April 7.
During a phone
conversation
on Tuesday,
leaders of the US, the UK and France agreed that "the international community needed to respond" to the chemical incident in Syria's Douma.
Reports by the White Helmets, a rebel-linked group, put the number of victims of the supposed attack with chemical-filled munitions at dozens. However, Russian military officials that visited the area and talked to hospital officials dubbed the claims a "provocation" and the accompanying images staged. While the UN's chemical watchdog's fact-finding mission is yet to reach the site on the ground, the US and its allies have all pinned the blame on the Syrian government and Russian "obstructionism."
Earlier, French President Emmanuel Macron said that the three allies - the US, the UK and France, - will reach a decision on whether to carry out a military action against Syria "in the coming days."
He then made the reservation that the scope of a potential French attack on Syria would be limited exclusively to facilities that are used to produce chemical weapons and will not affect Syria's allies, presumably Russia and Iran. It's not clear what targets Macron was referring to, since Syria denies that it has any chemical weapons stockpiles. The Organization for Prohibition of Chemical Weapons said it removed the last batch of its chemical arsenal in June 2014.
Russia has been urging the US and its allies to refrain from the apparently looming show of force in Syria. On Tuesday, the UN Security Council failed to adopt three consecutive resolutions on Syria, which called for a probe to be conducted into the alleged use of chemical weapons. The rejected US draft was criticized by Russian UN envoy Vassily Nebenzia as the one which was designed to fail in order to serve as a pretext for the US to opt for a military response, sidelining the UN.
"If you made a decision to carry out an illegal military endeavor, we hope, hope that you will come to your senses. You will be responsible for it yourselves," the Russian envoy said during a UNSC meeting.
China, another UNSC permanent member, also warned against a military intervention, calling on the parties not to "jump to an arbitrary conclusion" and leave room for political settlement.