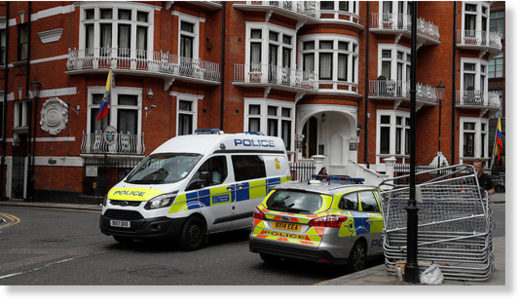 Kim Dotcom is alleging WikiLeaks founder Julian Assange has had his internet connection within the Ecuadorian embassy in London cut off. He has called on Assange supporters to gather outside the embassy building in solidarity.
Neither WikiLeaks nor Assange has made an official statement regarding the reports. An official confirmed that the embassy had cut off Assange's internet access when speaking to
AFP
.
Dotcom demanded that authorities "#ReconnectJulian." Former Greek Minister of Finance Ioannis Varoufakis also tweeted Wednesday, calling for people to rally around Assange to force the Ecuadorian uthorities to restore his internet connection.
"It is with great concern that we heard that Julian Assange has lost access to the internet and the right to receive visitors at the Ecuadorian London Embassy. Only extraordinary pressure from the US and the Spanish governments can explain why Ecuador's authorities should have taken such appalling steps in isolating Julian," Varoufakis wrote in an
online statement
.
"A world in which whistleblowers are hounded, small countries are forced to violate their cherished principles, and politicians are jailed for pursuing peacefully their political agenda is a deeply troubled world - a world at odds with the one the liberal establishment in Europe and the United States proclaimed as its artifact since the end of the Cold War."
Assange's latest tweet before his alleged disconnection and digital isolation came Tuesday, March 27. He responded to an apparent insult during a question and answer session in the UK House of Commons.
Dotcom announced a so-called "online vigil" will take place later on Wednesday. "Let's join together and demand the immediate restoration of Julian's human right to communication," Dotcom tweeted.