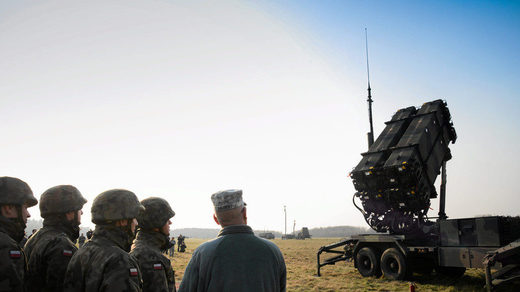 Poland has signed a $4.75 billion deal to purchase US air-defense Patriot missile systems. Claiming it wants to have "friendly relations" with its neighbors, Poland said it's best when friendship is enhanced by military strength.
"It is an extraordinary, historic moment; it is Poland's introduction into a whole new world of state-of-the-art technology, modern weaponry, and defensive means," Poland's President Andrzej Duda said during the signing ceremony on Wednesday.
"The first Patriot systems will reach Poland in 2022
, and the next ones in 2024," Prime Minister Mateusz Morawiecki
told
public broadcaster TVP Info on Tuesday,
adding that the agreement "has been very well negotiated."
The missile defense systems are expected to "ensure the security of our sky in an unprecedented way," he said. According to Morawiecki, the Patriot systems utilize the latest technology, which the US is only selling to Poland. "This is proof of our close solidarity as allies, that the Americans trust Poland."
The Patriot system is a long-range
missile
defense system designed to protect against aircraft, drones, and ballistic or cruise missiles. The long-range, high-altitude, all-weather solution has been tested over 3,000 times, according to Raytheon.
The contract comes with an offset package designed to "increase the production capacity of Polish plants." The prime minister added that
this offset package would enable Poland to "develop new military solutions in cooperation with the US."
Speaking about the already strained relations with Moscow, Morawiecki maintains that Warsaw wants to have friendly ties with its neighbors, including Russia, but "it would be best if the friendly relations were enhanced by our military strength."
In November, the US Congress greenlighted a deal for 16 launchers and 208 interceptor missiles PAC-3 MSE, along with radiolocation stations for Poland's mobile medium-range defense system.
To justify the costly project, Poland's defense minister
relied
on the familiar narrative of the "Russian threat."
In fact,
NATO's military build-up close to Russia's borders, including in Poland and the Baltics, has ratcheted up in recent years
with Moscow regularly presented as a boogeyman that needs to be warded off. The Kremlin says that by beefing up Western missile defenses at Russia's doorstep, NATO risks undermining regional security. Foreign Minister Sergey Lavrov said in February that Washington is actually trying to get a foothold in Europe by means of the military bloc.
"Only an inflamed imagination" could come up with the idea that Moscow is about to attack the Baltic states or Poland
, the foreign minister said in an interview with Euronews.
"Guided by this fake logic, a very real deployment of heavy artillery and additional large contingents takes place on the NATO-Russia border," Lavrov said, referring to the Baltic states, Poland, and Romania with its missile defense site.