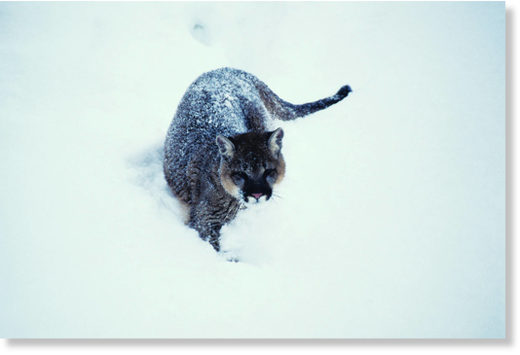 Conservation Office fielding three to five calls a week in the Cariboo due to deep snow
Two pets were killed by a cougar within days in the Bridge Lake area.
"There was a dog kill on Tuesday [Feb. 27] and another dog that was killed today [March 1]," said Conservation Officer James Zucchelli. "We were able to track down and get the cat this afternoon."
The cougar was dispatched around Bell Road in Bridge Lake. Zucchelli said he believes the cougar is likely responsible for both dog deaths due to it's proximity to both scenes and it's likeness to a photo of the cat caught during the first attack.
The office is only 90 per cent sure due to the lack of DNA testing though and would like to remind the public to remain diligent in safeguarding their property and pets from cougars.
"We don't want people to drop their vigilance. We need people to maintain a healthy respect for the environment and for the cats coming and going through their property," said Zucchelli.
The office is taking three to five calls a week on average regarding cougars, from sightings, tracks, interactions with people or cougar signs on properties. The sightings are reported from Bridge Lake all the way up to Williams Lake.
"The deep snow is definitely pushing the cougars out of the trees and into the plowed roads and then that drags them into close proximity to residences and conflict with people," said Zucchelli. "The snow has definitely increased the number of calls and interactions we've had."
The cougar was a 100-pound healthy female.
Residents should keep their pets on leashes and keep a look out for cougar tracks. They should also make sure areas are lit and walkways are clear of shrubbery long enough for cougars to hide in.