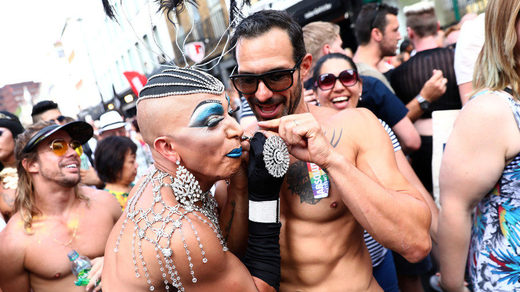 Gay rights group Stonewall has pulled out of London's biggest LGBTQ event over claims there is not "enough diversity" at the march. The group says it will march instead with UK Black Pride.
Every year, the gay community in London - and many from further afield - come together to celebrate being able to live openly as homosexuals. In 2017, more than 26,000 people attended the event which attracts singers and performers, as well as attractions and partying across the UK capital.
However, Stonewall has entered a spat with the Pride organizers over claims they were ignored when they called for changes. Pride's organizers rejected concerns raised by its advisory board last year that non-white communities were not included
enough
.
Now, Stonewall said it will pull support from Pride and march instead with UK Black Pride. A Stonewall spokeswoman said: "We know this is an event that's important to many in our communities and very much hope to attend in future years. However last year, Pride in London's community advisory board again raised concerns about the lack of diversity and inclusion at Pride in London - particularly of black and minority ethnic communities.
"Pride in London rejected those concerns from the community in the strongest terms and, as yet, have failed to make any public acknowledgement that they may need to make significant changes if Pride in London is to be an event for everyone."
The organization said it put forward recommendations to Pride over how it could be more inclusive of BME (black and minority ethnic) groups.
This year's parade is due to take place on July 7, and thousands are expected to fill the streets of London. Pride said the report was "inaccurate in many places, which is disrespectful to the many volunteers that work hard to deliver the event."
Responding to Stonewall's decision on Friday, a Pride spokesman said: "We will always welcome Stonewall to march with Pride in the parade, and we hope to welcome their team at many community-driven events that will take place this year, during the Pride festival.
"Embracing diversity in all its forms, and supporting organizations like UK Black Pride, is absolutely at the heart of our mission as a team.
"We are working closely with the community advisory board and are dedicated to making Pride a success for all our communities - from those who have never been involved, to those who come back year-on-year, enabling them to celebrate, protest and march for equality."