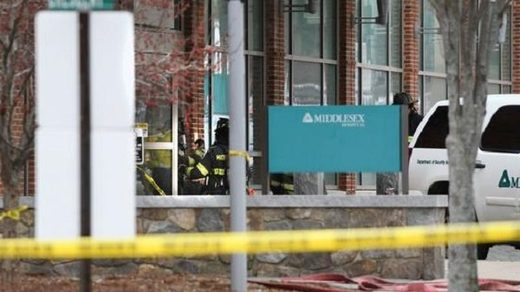 A man in his 20s crashed his car through the emergency room entrance at Middlesex Hospital Thursday morning and apparently set himself on fire, Mayor Daniel Drew said.
Drew said the act was intentional, but he would not speculate on the motive. The FBI, state police and Hartford bomb squads responded to the hospital, located at 28 Crescent St., and went to the man's home at 66 Milardo Lane on Thursday afternoon, officials said.
When asked whether the incident is being investigating as a possible act of terrorism, Drew said officials are not speculating what the man's motives may have been.
Officials said the car crashed through the hospital doors at about 10 a.m. A number of gas cans were found in the vehicle, prompting evacuations of the hospital and nearby homes.
The hospital said about 30 patients and 20 staff members were in the emergency room area at the time of the crash. No other injuries were reported.
"As a precautionary measure, we have called in assistance from other municipal, state and federal authorities to assist us in clearing this vehicle and clearing this individual's home prior to police entering it," Drew said. "We are also evacuating the homes in the immediate vicinity around his home."
Officials would not identify the person. Police Chief William McKenna said police have had contact with the person before, but would not elaborate.
"At this time we don't believe there is any threat to the community and we believe this to be an isolated incident," Drew said.
Social media pictures and video show smoke rising from the crash scene. T.J. O'Brien of Northford said he arrived at the hospital for an appointment around 10 a.m., apparently just after the crash.
"About a minute after that someone came running out of the fire in his birthday suit screaming 'Oh my God,'" O'Brien said.
Lindsey Heidel and Ali Mielczarski were nearby when news spread of the incident. The two live nearby and came to see the scene, both in disbelief of what unfolded.
"We didn't believe it at first," Heidel said. "This is just insane, you don't expect it from anyone."
Heidel said a friend of hers was leaving the hospital just minutes before the car rammed into the emergency department entrance.
Mielczarski said her aunt works in the hospital but was not hurt.
"She's worked here for 35 years. She's probably shocked," Mielczarski said.
Hartford HealthCare has increased security at its emergency departments as a precaution, spokesperson Shawn Mawhiney said in a statement.
He said MidState Medical Center, both campuses of the Hospital of Central Connecticut and Hartford Hospital are accepting patients while the Middlesex Hospital emergency room is closed.
It will be a while before residents who were told to leave their homes will be able to return, the police chief said at a press conference.
Amanda Falcone, hospital spokeswoman, said, "We are very thankful for our first responders for their quick response."
A car crashed into the emergency room at Hartford Hospital Monday night, but it was determined to be an accident.
The driver inadvertently hit the gas pedal, and the car surged into the building, breaking glass, police said. He wasn't injured.
That crash happened because the motorist, who was outside the ER waiting for a family member, was startled when a security worker knocked on his car window, police said.
Check back for updates.