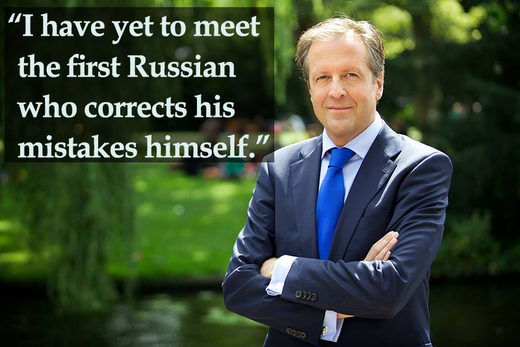 Several days ago, Dutch Foreign Minister Halbe Zijlstra
resigned
after he
admitted lying
about having met Russian President Putin in 2006 and overhearing him talk about his plans to create a "Greater Russia". After former Shell executive Jeroen van der Veer told the Dutch
Volkskrant
newspaper that Zijlstra wasn't even present at that 2006 meeting with Putin, Zijlstra confessed that he'd been lying all these years.
In response to Zijlstra admitting that he'd never attended a meeting with Putin, the Parliamentary leader of the Democrats 66 (D66) party, Alexander Pechtold,
told
state-run broadcaster NOS, that he appreciated Zijlstra's frankness, and that
he has "yet to meet the first Russian who corrects his mistakes himself."
This statement raised many eyebrows in the Netherlands, including among Dutch-Russians. Several of them have now filed a complaint against Pechtold, calling his statement "offensive" and "hurtful".
Elena Plotnikova, a Russian woman and pro-Russian activist living in the Dutch city of Breda, also filed a complaint, for which she has received many statements of support. She
told
the other state-run broadcaster, RTL Nieuws, "
I received support from Russians, but also from Dutch people. A lot of people agree that Pechtold's statement crossed the line.
" She added that she knows more people are either prepared to file a complaint or already have done so.
Another Russian woman, Lioudmila van Osch, a 46-year-old teacher residing in the city of Tilburg, was also shocked by Pechtold's statement. "
My mouth dropped to the ground. It touched me deeply,
" she
told
the regional news site BD. According to van Osch,
Pechtold is suggesting that all Russians are not to be trusted or are lying through their teeth
.
"
This makes me feel stifled in my daily life. I am a teacher at the Don Sarto school, a multicultural school. I daily remind my students the importance of having respect towards others. Such a statement makes me unconvincing. I am very concerned about this, because Pechtold is the leader of a government party,
" she added.
During a debate on last Tuesday, February 13th, Pechtold backtracked, saying that he wasn't referring to Russian people, but to Russian politicians (are they not people too?) who, according to him, have difficulty admitting mistakes. Criminal law practitioner Theo de Roos told RTL Nieuws that his correction was good, but that the damage had already been done: "
If you describe a whole people, in this case Russians, as a group of people who don't take the truth seriously, then you're generalizing. That's wrong, and falls under discrimination.
"
He added that
if you replace the word 'Russians' with 'Moroccans', there would be great uproar about it
. Just imagine then, the reactions if a politician were to have said 'Israelis' instead. Plotnikova recognized the point de Roos made, and told RTL Nieuws: "
Because it's about Russians, there is little reaction. Apparently you can say anything about Russians. That's just not fair.
"
Dutch Professor of Russian history and politics, and director of the Holland-Russia Centre, Hans van Koningsbrugge, described Pechtold's statement as "silly." Van Koningsbrugge works with Russians a lot and
told
RTL Nieuws that both Russians and Dutch people he has spoken to were shocked by Pechtold's anti-Russian statement. "
We already have a difficult relationship with the Russians, and you're just making it worse
," he added.
While taking offence and citing discrimination has at least superficially corrected the public discourse and reminded polite society in the Netherlands that it is inappropriate to treat or refer to a whole people as if they were less-than-human, with respect to Russia and Russians, there is clearly some deeper animosity that gives rise to such 'incorrect' discourse, and it is all the more pronounced given that we live in a time of heightened political correctness.
Is Russia-bashing merely an anomaly? Perhaps it stems from the relatively recent anti-Russia atmosphere emanating from Washington, DC,
de facto
HQ of 'the West'. But might it have older, deeper roots than that? Swiss journalist and author Guy Mettan makes the case that it is indeed old, arguably as old as Russia itself. While not ubiquitous throughout the modern age, it does recur frequently, and then subsists for longer than not. Its prevalence is so marked that Mettan suggested it is something akin to an acquired psychological trait in 'the Western psyche':
"Always the same reflex, which consists in suspecting, criticizing, accusing Russia, is triggered. This conditioning is not random. It has a history, causes, and mechanisms of service and reinforcement. It relies on a psychology and actors that feed it ceaselessly, even if they are not always conscious of it, like journalists, who often content themselves with reproducing a behavior without the will or the time to question it. But then, to borrow again the behaviorist metaphor, this Russophobia is not innate, it has been taught, acquired, and has taken roots in the depths of the West's collective unconscious."

¬ Mettan, 2017, Creating Russophobia: From the Great Religious Schism to Anti-Putin Hysteria
Whatever the case may be, the specific relationship between Russia and the Netherlands took a downturn when the Dutch government falsely blamed its Russian counterpart for the
MH17 incident
, and imposed sanctions against it, leading to counter-sanctions that resulted in
major losses for Dutch companies, farmers, and flower growers
.
Lying about the Russian president's intentions and discriminating against Russians is poor form that will continue to damage relations between both countries, with Dutch citizens as a whole being negatively affected by it in the long run.