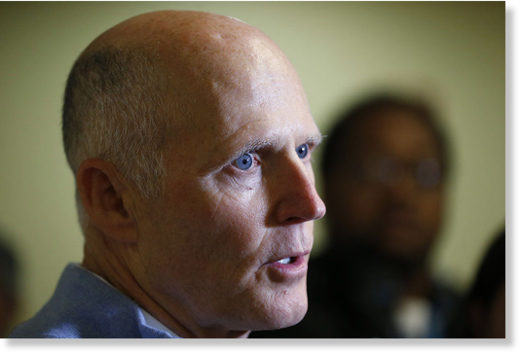 The first time the Florida poet Devin Coleman voted was also his last.
It was 2000, Gore v. Bush - when his was among millions of votes in play as the US Supreme Court called the winner and set the eventual arc of American affairs.
Not long thereafter, Mr. Coleman was involved in a fight at a house party. His arrest led to eventual burglary charges, a prison sentence, and the revocation of his right to vote.
Nearly two decades later, Coleman, now 39, is a father, published author, public speaker, and college graduate. But he says his disenfranchisement has shaded those successes.
"Everything in my life has been affected by my conviction - even after I paid my debt," says the author of "
Prisoner to Poet: Thoughts of an incarcerated soul
." "At this point, [reclaiming my full citizenship] has become a life's journey for redemption."
Perhaps aiding in that quest, Federal District Court Judge Mark Walker ruled Feb. 1 that 1.5 million Floridians' right to vote has been affected by a "scheme" to bend the people's collective will to political whim.
The judge
found that the vote restoration process
in Florida - executed by a Republican-led clemency board headed by Gov. Rick Scott - used arbitrary means to decide who is worthy. The state has until Feb. 12 to come up with remedies to the current constitutional violations.
Rebuked for violating the First and 14th Amendments to the US Constitution, Mr. Scott joins other Republican state politicians facing legal blowback from measures that courts have ruled discriminate, whether by effect or intent - or both - against black Americans.
Most immediately, the ruling could force Florida to immediately fix a massive backlog of re-enfranchisement cases ahead of the November election, potentially impacting races - including Scott's potential Senate run. But more broadly, the verdict against Florida's system, civil rights experts say, could train the nation's eyes on the deeper impacts of voting rights on political outcomes.
"We are in a new moment," says Bryan Sells, a civil rights lawyer in Atlanta. "We are [as a country] reevaluating the value of the right to vote and of unrigged systems. It's not because the system was less rigged before. People are just caring about it more in the last five years."
Advocates for restoring voting rights increasingly see it, he says, as a moral focus on the meaning of citizenship.
In fact, earlier this year, nearly a million Floridians signed a winning petition to have automatic vote restoration for felons (save for murderers and rapists) added to the state constitution. Sixty percent of voters would need to OK it in November for it to become law. A 2014 national poll showed 65 percent of Americans in favor of automatic vote restoration.
But passing the amendment may be an uphill battle in the Sunshine State, where law and order command a heavy respect.
"[Felon disenfranchisement] is understood as an issue of law and order and in Florida that's the end of the discussion," says Scott Paine, a political analyst for the Florida League of Cities in Tampa. "It is not seen in other terms, no matter the merits of other arguments. At the same time, this may be less about the state as a whole than about a particular administration's perspective."
Read more...