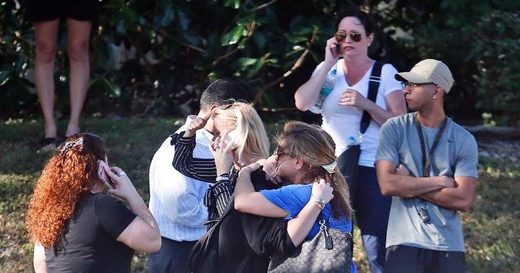 An American nightmare unfolded Wednesday afternoon at a North Broward high school after a former student came onto campus and opened fire, killing 17.
Details are beginning to emerge amid a flurry of police activity at Marjory Stoneman Douglas High School in Parkland, where students puzzled at the sound of a fire alarm going off just before dismissal were launched into a panic when gunfire punctuated the din. As teachers and students fled hallways and hid under desks, a former student who teachers and parents say was known to be dangerous came onto campus and unloaded, leaving a trail of bodies and stunned confusion in his wake.
Nicolas de Jesus Cruz, 19, has been taken into police custody. The Broward Sheriff's Office is reporting 17 dead, and is still working to clear all the buildings at the massive school, home to about 3,200 students.
They have yet to name a motive for the shooting, which they say doesn't immediately appear to have been prompted by any confrontation.
"It's a day that you pray every day when you get up that you will never have to see. It is in front of us. I ask the community for prayers and their support for the children and their families," Schools Superintendent Robert Runcie, appearing at a media staging area near the school, told WSVN Channel 7. "We received no warning... Potentially there could have been signs out there. But we didn't have any warning or phone calls or threats that were made."
The shooter, a former student identified by law enforcement sources as Cruz, managed to make it off campus before he was cornered and taken into custody near the community entrace Pelican Pointe at Wyndham Lakes in Coral Springs. He was transported to North Broward Medical Center, and then sped away from the hospital in a police escort.
More than a dozen victims were taken to the same hospital, as well as Broward Medical Center. ABC News has reported at least 15 killed in the shooting.
Broward Sheriff Scott Israel, whose triplets once attended the high school, said during a 5 p.m. press conference that multiple SWAT teams are still clearing out the school and that an "all clear" has not yet been issued. Israel, who said he spoke with President Donald Trump and Gov. Rick Scott, called the shooting a "detestable act" and "catastrophic."
"Right now, the buildings are not safe to be cleared," he said.
Israel said BSO officials would be transporting students to the Fort Lauderdale Marriot Coral Springs Hotel, Golf Club and Convention Center, located at 11775 Heron Bay Blvd. in Coral Springs. "This is a terrible day" for the local and national community, he said.
Video allegedly shows the scene from the shooting inside Marjory Stoneman Douglas High School @Tezlurkss
Israel said the shooter was both inside and outside the school's buildings during the shooting.
A teacher at the school told the Miami Herald that Cruz, 19, had been identified as a potential threat to fellow students in the past. Math teacher Jim Gard says he believes the school administration had sent out an email warning teachers that Cruz had made threats against other teenagers in the past and that he should not be allowed on the campus with a backpack. Another student interviewed on the scene by Channel 7 said the student had guns at home.
"We were told last year that he wasn't allowed on campus with a backpack on him," said Gard, who said Cruz had been in his class last year. "There were problems with him last year threatening students, and I guess he was asked to leave campus."
The shooting began just before dismissal, after someone pulled the fire alarm. Students and teachers were puzzled because the school had already held a fire drill that day. Then the shots started.
"Six kids ran back into my room, and I locked the door, turned out the lights and had the kids go to the back of the room," Gard said. "I told the kids to hang in there, it may still be a drill."
Nicholas Coke was sitting in English class when the fire alarm went off, and left his bag in the classroom before the sound of loud pops sent him running. He described people jumping fences, running behind the middle school and staying in classrooms.
"I wasn't going to stick around and find out what was going on," he said.
A video posted to social media showed students hiding under desks, screaming as at least 20 gun shots rang out.
On the first floor, freshman Geovanni Vilsant, 15, said he was in a Spanish classroom when a fire alarm went off, urging all the students out of their classrooms. Then, two minutes later, gun shots rang out enveloping the three-floor 1200 building in explosions.
Geovanni Vilsant said he said three bloody bodies on the floor as he was fleeing the school.
"There was blood everywhere," he said. "They weren't moving."
His elder brother, who jumped a fence and sought refuge in a nearby neighborhood, ran back around to try to find his brother.
"I had to go back for him," Bradley Vilsant said from a nearby WalMart where the brothers fled with about 100 other students.
The students remained calm. One high school senior elsewhere at the school told the Miami Herald that there were "SWAT teams everywhere with big guns, cops everywhere, helicopters." She said parents trying to reach their children have been unable to make it to the school because the streets are closed off.
But by 2:40, Gard says, they knew it wasn't a drill. Elsewhere, bullets flew. Miami Herald news partner CBS-WFOR, citing law enforcement sources, is reporting that as many as seven have been killed. Margate's Fire Chief, whose department responded immediately to the scene, told the Miami Herald that more than 20 were injured.
Initially, the Coral Springs Police Department urged teachers and students to remain barricaded inside until police reach them. Students posted pictures to social media taken from under their desks.
Police, who flooded the school, began clearing buildings one at a time. Students streamed out in a line with their hands up. Others ran like mad, bookbags strapped to their backs. The evacuation started under the direction of police officers, and the students were guided to nearby parking lots by officers as well.
Police have remained tight with information. Law enforcement and the district's Special Investigative Unit are on site, as is the bureau of Alcohol, Tobacco, Firearms and Explosives. Federal authorities said they don't believe the high school shootings are related to terrorism.
The FBI-led Joint Terrorism Task Force, consisting of local, state and federal agents, sent a squad to the school to assist the Broward Sheriff's Office and other law enforcement.
"My prayers and condolences to the families of the victims of the terrible Florida shooting," President Donald Trump tweeted. "No child, teacher or anyone else should ever feel unsafe in an American school."
Worried parents trying to find their children stood by helpless. Authorities have designated pick up for students at North Heron Bay Marriott, South at Betty Stradling Park. Many students were being cleared by police and teachers by a Walmart near the school.
Parents are standing about a mile from Marjory Stoneman Douglas High as they try to calm their children by phone. CARLI TEPROFF cteproff@miamiherald.com
Parents stood about a mile away as police blocked him from getting closer to their children. Many spoke on their cell phones trying to calm their children down.
Denise Perez paced she spoke to her daughter Marsiel Baluja. Her daughter told her that she was sitting between Publix and Walmart with a bunch of other students. They were surrounded by armed marshals.
"Just stay calm, baby," she said.
Perez just wanted to get closer to her daughter.
"This is really hard," she said as she cried.
Victoria Olvera, 17, a junior, able to walk out after getting clearance by police officers. She said she was in history when she heard shots.
"Everyone started running," she said.
This breaking news bulletin will be updated as more information becomes available. Miami Herald reporters Douglas Hanks, Alex Harris, Chabeli Herrera, Tarpley Hitt, Nicholas Nehamas, Charles Rabin, Carli Teproff, Martin Vassolo and Jay Weaver contributed to this report. Washington correspondent Alex Daugherty contributed as well.