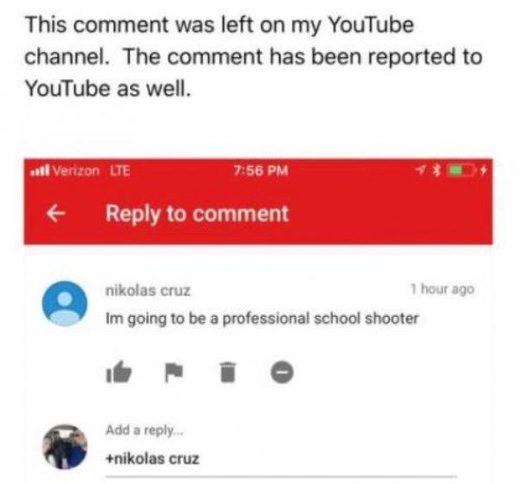 In the latest humiliation for the scandal-plagued FBI - one which this time had deadly results - the FBI agent in charge of the Florida shooting probe admitted that
the Bureau had investigated a school shooting threat made on YouTube last year but could not identify person behind it even though Nikolas Cruz used his real name to sign the threat.
Perhaps it was too busy unmasking member of the Trump administration?
And so, nearly half a year later and long after one of America's most deadly school shootings, the FBI said on Thursday that it was finally investigating whether or not a disturbing YouTube comment reported to them in September was posted by the suspect in Wednesday's deadly Florida school shooting rampage.
A Mississippi man told CBS that he warned the FBI last September about a social media comment allegedly posted by Florida school shooting suspect Nikolas Cruz. Ben Bennight says he saw a comment on a YouTube video that troubled him and notified the FBI, Pegues reports. The comment on Bennight's YouTube video said, "I'm going to be a professional school shooter," Bennight said.
As
noted earlier
, BuzzFeed News first reported that the YouTube vlogger says he made the warning.
Bennight, who BuzzFeed reported is a bail bondsman,
spoke with the FBI last year for about 20 minutes, and there was no follow-up from the FBI after that initial conversation.
Then, Bennight told CBS that he again spoke with the FBI on Wednesday night for about 20 minutes.
They wanted to know if he knew anything more after first reporting the YouTube video last year. He said the same agent/agents he spoke with last year came to his home Wednesday.
Robert Lasky, special agent in charge of the FBI Miami Division, said Thursday at a press conference that the FBI received information last year about a comment on a YouTube channel that said, "I'm going to be a professional school shooter."
"No other information was included with that comment, which would indicate a time, location or the true identity of the person who made the comment," Lasky said. "The FBI conducted database reviews, checks, but was unable to further identify the person who actually made the comment."
Which, as noted above, is absolutely bizarre
since as shown in the screen capture above, the comment was signed by the shooter himself, Nikolas Cruz.
Lasky said investigators are again reviewing the comment but don't know whether Cruz is the person who posted it.
"We're going back, we're scrubbing the information, we're looking at it again, but I'm not willing to say at this time that it was ... the same person,"
Lasky said.
The development comes just hours after Broward County Sheriff Scott Israel urged people to call law enforcement if they see something online "that is not right."
"Call up the FBI or the Broward Sheriff," he said. "You could prevent a major tragedy."
Or just the Sheriff: if calling the FBI, be prepared to be very disappointed, unless of course you have photos of Trump banging a KGB hooker spy.