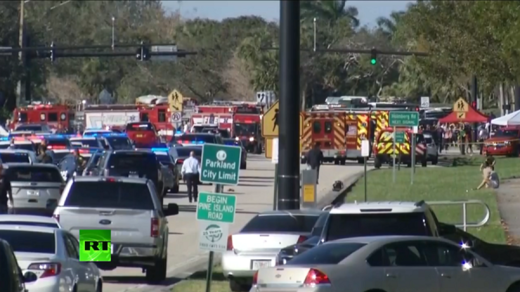 A shooting at a Florida high school has left 17 people dead, the local sheriff has confirmed. The suspected shooter has been detained.
A lone attacker opened fire outside Marjory Stoneman Douglas High School near the end of the school day, then proceeded inside and continued shooting. He left 17 people dead and at least a dozen injured, Broward County Sheriff Scott Israel confirmed to the media.
Twelve of the deceased victims were found inside the school building, two were found just outside and one in the street nearby. Two more people have succumbed to their wounds in the hospital.
The injured victims were taken to Broward Health Medical Center and Broward Health North hospital.
Multiple ambulances, police cars and even armored vehicles were deployed to the school as the incident unfolded.
The shooter, identified as 19-year-old former student Nikolas Cruz, "was taken into arrest without incident," the Sheriff said. He was armed with an AR-15 rifle and possibly other weapons. "He was not a current student," Israel said. "I don't know why he left, I don't know when he left."
One of the school's students, caught up in the shooting, posted pictures from a classroom where he and his fellow students were hiding behind desks.
He later wrote that students were allowed to leave the building.