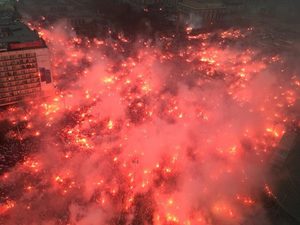 Poland marks independence centenary, 11 November 2018
The evils of tyranny are rarely seen but by him who resists it.
- John Hay
Recent Comments
Book: Feudalism ...alias American Capitalism: A study of American Feudalism in action. Feudal rulers: 1, do not pay taxes 2, law do not apply to...
---
@ Anna1 It seems to me that what you really mean is that life would be so much simpler if all of the rest of us would agree with you. I reject...
---
Georgia W. Bush was awarded the "Liberty Medal" today. WTF!?? The man that gave us the Patriot Act was awarded a Liberty Medal? What a sham!...
---
The minister also said that the kingdom will cut its oil exports by 500,000 barrels per day in December to shore up sagging prices. nice +1
---
the background/reasons for wwi to break out were complicated and had many facets. good luck with conspiracy theories and simple explanations on...