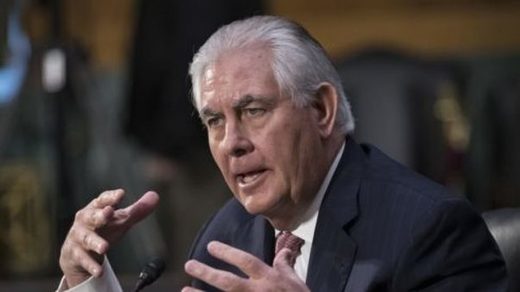 Speaking on the sidelines of an Iraq donors conference in Kuwait on February 13, US State Secretary Rex Tillerson rejected claims that the US lacks support in Syria. The diplomat epmhasized that Washington controls a large part of the country's oil fields and area and this allows it to influence the situation.
"The United States and the coalition forces that are working with us to defeat [ISIS] today control 30% of the Syrian territory, and control a large amount of population, and control a large amount of Syria's oil fields," Tillerson told media. "This observation that the US has little leverage or role to play is simply false."
Tillerson added
that the US is "very active" in the so-called Geneva format "both in terms of working with the opposition voices to unify them and have them working toward an objective, and
we're working very closely with Russia, who has the greatest influence on the Assad regime and can bring Assad and the regime to the negotiating table in Geneva."
He further added that
Washington cooperates with "a large group of partners"
that "see things the same way we [Washington] do in terms of a unified Syria, a democratic Syria, with the Syrian people deciding their own future through a new constitution and election.
We have enormous support from our approach in terms of seeking a future for Syria."