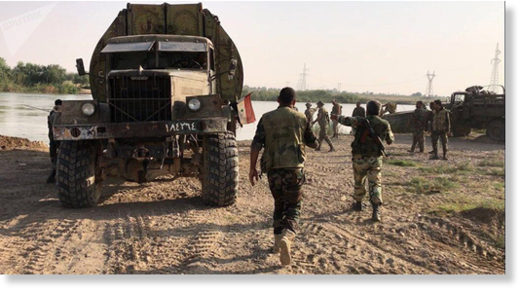 Syrian government forces discovered warehouses stocked with weapons and ammunition, including arms produced in Israel, in Deir Ez-Zor, which had been liberated from the terrorist group Daesh (ISIS) on February 14. A day later, the Syrian state news agency released footage of the weapons.
Warehouses stocked with a large number of rockets, mortars, tank shells and other ammunition were discovered in Al Boukamal and Al Mayadin areas, according to SANA, Syria's state-run news agency. As the report specified, some of the found weapons were produced in Israel.
The agency, which cited sources, said the Syrian government forces also found a factory manufacturing shells and explosives as well as barrels with a strange essence that could be used for manufacturing toxic substances in one of the tunnels in al-Sbikhan village, to the east of al-Mayadin.
However, no official comments on the reports from the Syrian or Israeli side followed.