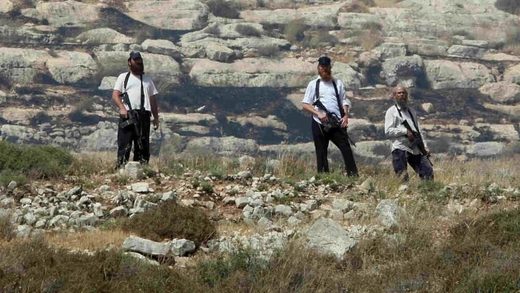 Palestinian villagers thwarted an attempt by Israeli settlers to kidnap two Palestinian children in the village of Madma south of Nablus on Wednesday, it was reported by
al-Araby al-Jadeed
.
The head of the village council, Ehab Qat, told
al-Araby
that a number of settlers from the nearby settlement of Yitzhar
stormed
the village and attempted to kidnap the two children, aged between 10 and 14, as they were tending to sheep in the eastern outskirts of the village.
Local sources said that the settlers,
while in the presence of Israeli forces
, followed the two children, who retreated back to their homes.
Another source told
Quds Press
that clashes broke out following the kidnapping attempt, during which Israeli forces launched gas and sound bombs at locals.
The villagers are fearful of another attack as settlers and Israeli forces remain in the area south of the village, it was reported.
The area surrounding the northern West Bank city of Nablus has one of the highest concentrations of Israeli settlements and has often been a flashpoint for violence.
Yitzhar settlers are
especially notorious
for their fanaticism and violent acts against Palestinians, having routinely destroyed Palestinian
olive groves
and vandalised Palestinian property.