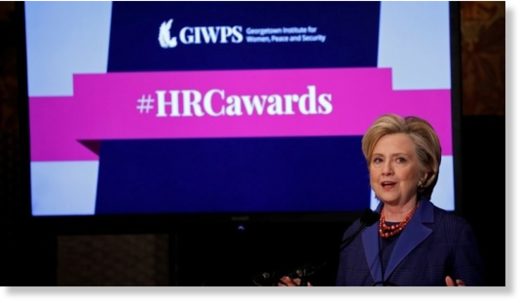 Hillary Clinton on Monday returned to blaming "misogyny" and "sexism" for contributing to her 2016 election loss, during a Washington appearance that followed a critical report on how she handled sexual harassment allegations during her 2008 campaign.
Clinton presented the "Human Rights Awards" Monday at Georgetown University, where she sits as honorary founding chair of the Georgetown Institute for Women, Peace and Security.
Clinton spoke about the importance of female leadership in advancing human rights, justice and peace, and went on to discuss the 2016 election during a panel segment.
"Any of you who've read my book about 'what happened' know that I think misogyny and sexism was part of that campaign-it was one of the contributing factors," Clinton said.
"Some of it was old-fashioned sexism and the refusal to accept the equality of women, and certainly the equality of women's leadership."
Clinton told the audience that the way forward for women's equality was "through the ballot box."
"Certainly, voting remains the principal way that every individual can express an opinion," Clinton said. "And anyone who chooses not to vote, basically leaves that opinion to others and perhaps don't hold your values."
In her memoir, "What Happened," which was first released in September, Clinton faulted a range of
factors
for her loss-like voter ID laws, "Those Damn Emails," the "unprecedented intervention in our election" by former FBI director James Comey, and the "audacious warfare waged from the Kremlin."
Clinton also criticized women who did not vote but supported the Women's March on Jan. 21, 2017. In her book, she called that day "bittersweet."