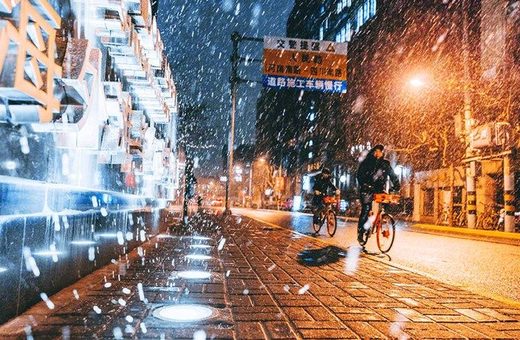 Extreme weather disrupts flights and train services, with several road accidents during rush hour
Shanghai residents are revelling in rare snow, but the extreme weather has disrupted flights and trains in the region and the city also saw a series of traffic accidents during rush hour on Friday.
Many people braved the cold to enjoy the novelty of snow blanketing downtown Shanghai,
which has not seen significant snowfall for a decade.
In the city's central area, the snow was 4cm deep, while in the suburbs it was 5cm to 10cm.
Zhao Fang, an office manager and mother of a preschooler, said she took the day off work and gave her son the day off school on Friday to fully enjoy the snow.
"We don't want to miss this rare opportunity to play in the snow," she said. "Who knows how many more years it will be before snow will fall again in Shanghai."
Photos shared online by thrilled residents showed people frolicking in the snow, leaving messages on snow-covered cars, making snow angels and building snowmen.
But dozens of parks were closed for safety reasons until the snow was cleared, local news website Xinmin.cn reported.
There were also a number of road accidents in the extreme weather, the report said.
They included a 10-vehicle pile-up on an elevated road in the city's Putuo district, and four vehicles were damaged in two other accidents on the Yangpu Bridge. There were no fatalities.
On Friday morning, the municipal meteorological bureau cancelled its yellow alert for snow but continued an orange alert for icy road conditions.
Snow showers are forecast to continue on Friday and Saturday, with temperatures expected to remain at near zero degrees Celsius (32 Fahrenheit).
In nearby Anhui, Jiangsu and Zhejiang provinces, a snowstorm was expected to hit on Friday night.
Heavy snowfalls since Thursday in Shanghai and neighbouring cities in the Yangtze River Delta have also caused flight and train delays and cancellations, with at least five airports affected.
Airports in Nanjing, Jiangsu, and Hefei, Anhui, were still dealing with many delayed flights on Friday morning although it had stopped snowing in most areas of the provinces, according to civil aviation analysis website Variflight.com.
On Thursday, more than 100 flights were cancelled at Shanghai's Pudong and Hongqiao airports, while several trains travelling from Shanghai to Beijing and cities in Anhui, Fujian, Henan, Shaanxi and Zhejiang provinces were also cancelled.
A dozen trains were delayed along the Beijing-Shanghai, Shanghai-Ningbo, Shanghai-Kunming and Ningbo-Hangzhou routes.
Authorities in Nantong, Jiangsu, were meanwhile searching for about 8.5 tonnes of industrial salt that had gone missing, news portal ThePaper.cn reported.
The salt, used to melt snow on roads, is believed to have been stolen by residents from nearby villages, according to the local road management office. Officials urged the thieves to return the salt, and warned that it should not be used in food as it was not safe for consumption.