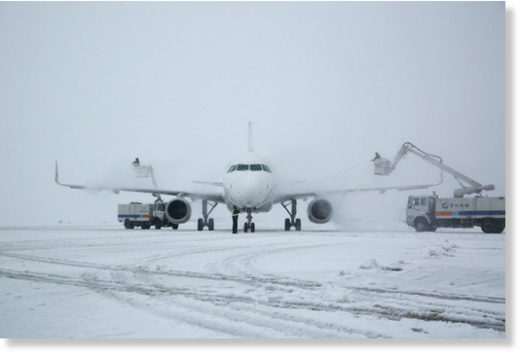 A blizzard sweeping across central and eastern China since Thursday has led to cancellations and delays of dozens of flights and high-speed train services.
Up to 20 centimeters (7.87 inches) of snow had fallen by 5 a.m. Friday on southern parts of Henan province, northwest Hubei, southwestern parts of Jiangsu, northern Zhejiang province and Shanghai, according to China's Central Meteorological Administration.
In Shanghai, the first heavy snow to hit the metropolis this winter forced the city's two airports, Shanghai Pudong International Airport and Hongqiao Airport, to cancel 138 flights
- nearly 12% of scheduled flights - by 6p.m on Thursday., according to the city's airport authority. Seven more were delayed by at least two hours.
Another 70 flights out of Shanghai had been cancelled by midday Friday.
Extra time was needed to remove snow and ice from planes
, as required by aviation safety regulations, Sun Yi, an official overseeing air traffic control at the Civil Aviation Administration of China's (CAAC) East Regional Administration, told local news outlet Wenhui Daily.
Air traffic controllers and airline companies rushed to reschedule flights or reassign passengers from different flights into one to avoid large numbers of travelers being stranded in Shanghai.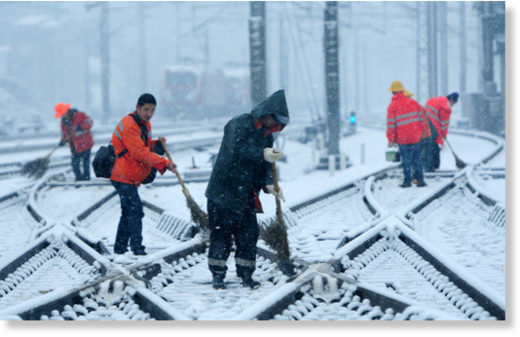 The heavy snowfall also coincided with a fire on a bullet train en route from the eastern port city of Qingdao to Hangzhou, just before noon Thursday. This resulted in a suspension of high-speed train services on several lines running through the Yangtze River Delta area.
All high-speed trains bound for Beijing and Nanjing, and services from Nanjing to Chengdu, and Nanjing to Hangzhou, were suspended Thursday, according to China Railway Shanghai Group.
No injuries or fatalities have been reported, and the cause of the blaze is still under investigation.
The Meteorological Administration issued a yellow alert for blizzards on Wednesday morning and extended it on Friday, warning that up to another 12 centimeters of snow could fall on much of central and eastern China by 8 a.m. Saturday.
Shanghai saw light snowfall early Friday and 40 bullet trains in and out of the Yangtze River Delta region had been delayed by 10:20 a.m. Friday, China Railway Shanghai Group said.