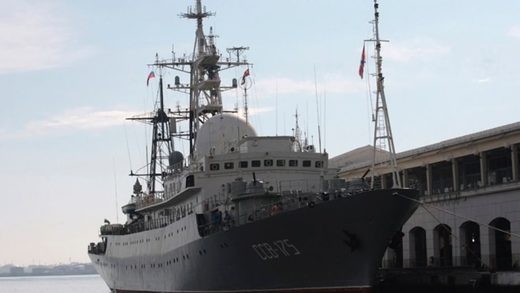 The Russian spy ship first spotted near American waters last year is making its way back in the direction of the U.S., Fox News confirmed on Thursday.
The Victor Leonov is
still in the Caribbean
, according to officials, but heading north off the coast of Florida, home to a U.S. Navy base located in North Florida, east of Jacksonville.
The ship could be off the Florida coast by Friday if the ship maintains present course and speed, according to officials.
There is also a ballistic missile submarine base located in southern Georgia known as Kings Bay, which is another likely destination for the spy ship to loiter and watch U.S. "boomers" - as the ballistic missile subs are called - enter and leave port.
The
Washington Free Beacon
was the first to report on this story.
Fox News
previously reported that last year, during a White House press conference, President Donald Trump weighed in on the story first reported by Fox News.
"Hey, the greatest thing I could do is shoot that ship that's 30 miles offshore right out of the water," Trump said. "Everyone in this country is going to say, 'Oh, it's so great.' That's not great. That's not great.
I would love to be able to get along with Russia
."
Sen. Chris Murphy, D-Conn., said in a tweet the day before Trump's comments in February 2017 that Russia was trying to "expand influence."
"Russia is acting like it has a permission slip to expand influence, test limits of reach.," Murphy wrote. "Questions are obvious: does it, and if so, why?"