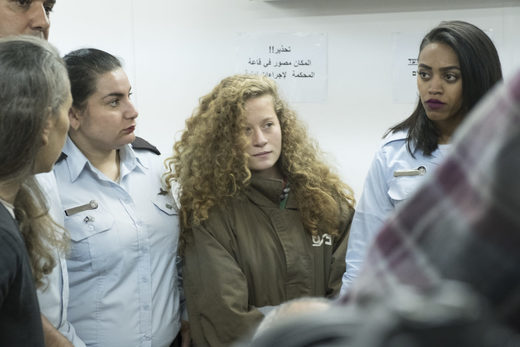 Ahed Tamimi, 16, has been held in an Israeli prison for nearly a month since her arrest last December 19 for slapping a soldier. Today a military court in Ofer prison inside occupied territory extended her detention indefinitely, till she is tried.
B'Tselem reports
:
Today (Wednesday, 17 Jan. 2018), a military judge approved the prosecution's request to remand 'Ahed and Nariman Tamimi in custody....

Remand for the duration of the proceedings means that a person continues to be held in custody after the investigation has been concluded and an indictment filed, until all legal proceedings, including judgment and sentencing are over. During this time, the detainee is not serving a prison sentence and is supposed to be presumed innocent until proven guilty.
The Guardian
quotes the judge
:
"I found no alternative other than to order her detention in custody until the end of proceedings," the judge ruled.... "The gravity of the offences of which she is accused does not allow an alternative to custody."
Tamimi's mother was also remanded, B'Tselem says:
Both 'Ahed Tamimi (16) and her mother Nariman (42) have been in custody since 19 December 2017, after 'Ahed was taken from her home in the middle of the night, and her mother was arrested when she came to find out what was happening with her daughter later that day. All the military prosecution's requests to extend their detention have been approved by the military judges. Meanwhile, the prosecution has built up inflated case files against both mother and daughter, including a litany of charges that go back as far as April 2016 - conveniently ignoring the fact that until now, the authorities have seen no need to arrest the alleged suspects or call them in for questioning...
The human rights organization
says
Tamimi is hardly singular. "Look at Ahed Tamimi and see what happens to Palestinian minors in Israeli military courts. Decision to remand Tamimi in custody is no surprise when judges & prosecutors are military personnel, defendants are Palestinian & conviction rate nears 100%."
Lara Friedman of Foundation for Middle East Peace
quotes
the military judge from
Haaretz
and comments:
Judge: 'initiative she showed & severity of the violence she used [slaps, kicks] attests to the risk she poses' [to Israeli ego, pride, defense of occupation]
Anyone who is shocked that a young woman accused of a trivial offense could be held for a month and counting doesn't understand that no normal law applies in occupied Palestine.
This is military law. So the case is surely a teaching moment about how "rather than serving justice, Israel's military court system is a major tool of oppression serving Israel's control over Palestinians in the Occupied Territories," as B'Tselem says. You may not have read that in the
New York Times
, but that has been every day life for Palestinians for 50 years.
The lengthy detention turns out not to be at all unusual; plenty of people are held without trial by Israel.
Occupation means that normal judicial procedures, and international understandings- representation by counsel, presumption of innocence, bail as a measure to stop flight risks, not to punish the accused - that's all suspended here.
Bill van Esveld at Human Rights Watch
says
that the prosecution is throwing the book at Tamimi, and the pattern is consistent:
Unlike the leniency often shown to settlers - even those who slap Israeli soldiers - the prosecution is throwing the book at the girl, whose indictment includes a dozen counts of assault, incitement, interference with soldiers, and stone-throwing in incidents since April 1, 2016.

And unlike Israeli civilian courts' treatment of Israelis, military courts in the West Bank deny bail in 70 percent of cases involving Palestinian children. A 2013 UNICEF report found that almost all children plead guilty to reduce the length of pretrial detention, because doing so, "is the quickest way to be released," from a system that typically denies children access to a lawyer or the presence of their parent during coercive interrogations and, "does not allow children to defend themselves." Considering that the military prosecutor plans to summon 18 witnesses, mostly soldiers, Ahed's trial could take months.