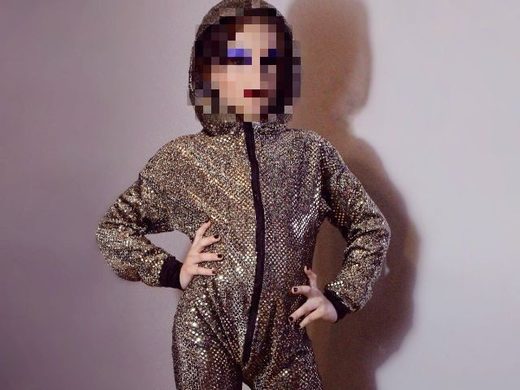 House of Mann, an erotic gay BDSM clothing store, has been accused of sexualizing children after they used
a nine-year-old boy dressed as a drag queen
to model for them.
The nine-year-old drag queen who goes by the name "Queen Lactatia," stands sexualized in the photos, wearing a sequin onesie.
Products
available
on House of Mann include
BDSM sex harnesses, bondage gloves, jock straps, and nipple pasties, which are all tagged with keywords such as "hot," "erotic," gay," "BDSM," "fetish," "kinky," "dominatrix," and "stripper."
After users on Facebook and Twitter
complained
about the company sexualizing children for an erotic brand, House of Mann owner Brandon Hilton
declared
, "[I] woke up to countless tweets telling me 'kill yourself' and calling me a 'pedo' after we announced 9 year old drag superstar Lactatia as our new HOUSE OF MANN covergirl... If you can't handle a kid in a sequin onesie,
maybe the future isn't for you!"
"I think this new generation of drag kids is brilliant and inspiring!"
he
continued
in another post. "@Desmond_Amazing and Lactatia are the future! @TheHouseofMann is just making sure they look SICKENING! people will talk no matter what, might as well give them something FIERCE to look at!"
Despite the fact that some Twitter users reported the pictures, Twitter claimed they did not break any platform rules or policies.
The nine-year-old boy first became known to the public in September 2017, when he
appeared
on ITV's
This Morning
with his mother, wearing a pink wig, makeup, and a dress.
"I think it's extremely important to allow your children to really tap into their creative side, encourage and foster that independent spirit and being an individual," proclaimed his mother in support. "I encourage all parents with their kids, if they have a passion, support it and let them do it."