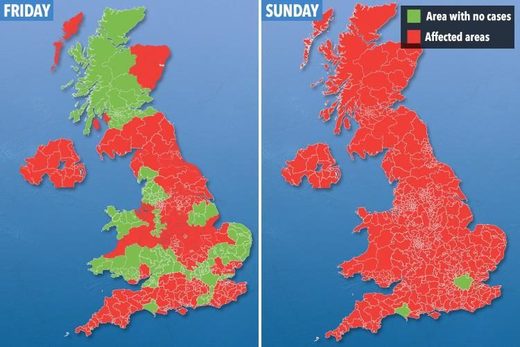 The deadly "Aussie flu" outbreak could get worse, as a French epidemic of "exceptional magnitude" threatens to infect the UK.
The deadly H3N2 strain is feared to have
spread to almost all parts of the UK,
following a surge in flu cases over the weekend.
Dorchester in Dorset and the City of London were last night the only places where no one has yet reported an "influenza-like illness"
- with churches even banning handshakes in an attempt to curb the spread of infection.
Some 4.5million people are thought to have been struck down by flu over the past week, according to the online tool FluSurvey.
In France, the Ministry of Health issued an alert, warning "the influenza epidemic is of an exceptional magnitude, by the number of cases, which risks exceeding those of the last two years", adding the epidemic has yet to reach its peak.
Around
12,000 people visited French emergency departments with flu during Christmas week
, while 1,250 were kept in for treatment - and the virus has claimed more than 30 lives across the Channel already.
Meanwhile figures from the NHS show that 1,078 people have been admitted to hospital with flu since October across 19 NHS trusts - of those 252 people were diagnosed with "Aussie flu", a new mutation of the virus.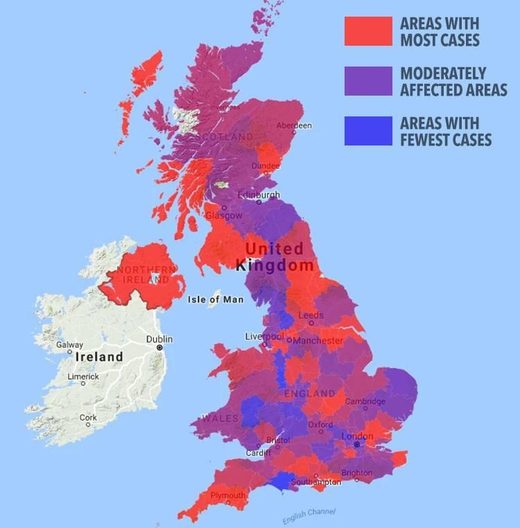 It means across the UK around 3,800 people are thought to have ended up in hospital with flu - with about 1,000 of those thought to be battling the "Aussie" H3N2 strain.
Professor Robert Dingwall, a flu expert at Nottingham Trent University told The Sun Online the UK must brace itself for the flu crisis to "get worse before it gets better".
While it's still early in the flu season, he warned "we have good reason to think it
could be the worst winter for ten to 15 years,
if not decades".
"GPs are seeing a lot more flu after opening again after Christmas," he said. "We have every reason to suppose we will see more cases probably more severe cases, and probably more deaths."
He warned the NHS is facing an unprecedented challenge, and urged businesses to have contingency plans ready, as the number of cases is expected to rise in the coming weeks.
NHS trusts may be forced to cancel non-emergency operations well into February, Prof Dingwall told The Sun Online, as hospitals struggle to cope amid the winter crisis.
He added: "The French are having real problems and we are likely to see the same here within weeks."
Part of the problem this year is the new H3N2 "Aussie" flu strain.
"Aussie flu poses a threat because we haven't seen it before," Prof Dingwall explained.
"So nobody has any protection (immunity against it), in the population."
Churches in Northern Ireland, which is also badly affected, have banned traditional "peace" handshakes at mass until the risk of infection subsides.
A statement from the office of Bishop Noel Treanor said: "The customary sign of peace handshake exchanged during mass is suspended until the risk of infection is significantly reduced.
"Other provisions will be made for those who suffer from a coeliac condition, such as separate chalices."
In the UK, Dartford was one of the last areas to have cases reported, with Essex, Teesside and Devon appearing to be among the worst-hit regions.
In the last 24 hours the Brecon Beacons and Telford, which yesterday had no reported cases, were revealed to have at least one each, according to the Flusurvey website.
Flusurvey relies on 7,500 members of the public reporting when they are suffering
flu-like symptoms
- so the true number of flu cases is likely to be higher.
Meanwhile, the latest figures from Public Health England (PHE) reveal a low uptake of the flu jab, with just 46 per cent of eligible under 65s having had their vaccination.
And just 40 per cent of two-year-olds and 41 per cent of three-year-olds have had their jabs this year.
Dr Richard Pebody, acting head of respiratory diseases at PHE, said: "As we would expect at this time of year, flu levels have increased this week.
"Our data shows that more people are visiting GPs with flu symptoms and we are seeing more people admitted to hospitals with the flu.
"The vaccine is the best defence we have against the spread of flu and it isn't too late to get vaccinated.
"People suffering with flu-like symptoms should catch coughs or sneezes in tissues and bin them immediately, wash their hands regularly with soap and warm water and frequently clean regularly used surfaces to stop the spread of flu.
"Avoid having unnecessary contact with other people if you or they have symptoms of flu."
But he warned the FluSurvey map may not be a representative sample of "Aussie flu" cases in the UK - because the
symptoms for all strains of flu are so similar.
One in four hospital cases of flu are thought to be patients battling the "Aussie strain", with 17 people admitted to intensive care with the strain in the week before Christmas.
A further 112 people were admitted to non-emergency hospital wards, up from just five the week before.
And the lethal H3N2 strain has claimed its first victims in Ireland, sparking fears of fatalities elsewhere.
Cork University Hospital in the south of the country has banned all visitors in an attempt to tackle the flu virus.
NHS England national medical director Sir Bruce Keogh has called for a "serious debate" about introducing mandatory flu jabs for doctors, nurses and other health workers.
Amid a
worsening winter crisis
, he said action was needed to prevent the bug from spreading.