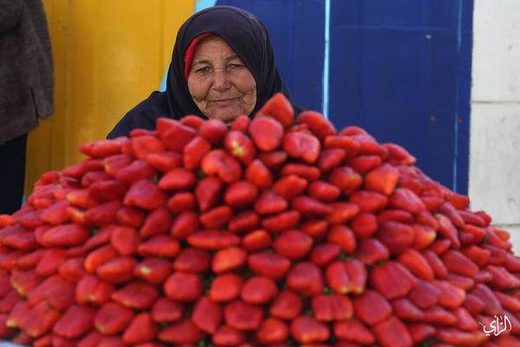 The strawberry harvest season in the Gaza Strip is
underway
. Farmers call the fruit "red gold" given the high revenues they make from exporting it to foreign markets between December and April every year.
Russia is preparing to import the first cargo of strawberries from Gaza for the first time, according to Ahmed al-Shafey, the CEO of the
Gaza Agricultural Cooperative for Producing & Marketing
, which specializes in planting and exporting agricultural products.
Shafey told Al-Monitor, "Russian companies have set their local marketing plans for the importation of strawberries from Gaza.
The total exports is estimated to reach 15 tons worth $76,500 by April 2018
."
He said Russia will import strawberries from Gaza for the first time, since its price offered exceeded that of Israeli companies. In addition,
Gaza seeks to export other
fruits
and vegetables to Russia
.
Despite the siege imposed on the Gaza Strip
, the small enclave has been able to export some products. On Dec. 19, the first
strawberry shipment
was sent to Saudi Arabia through the Karam Abu Salem crossing.
It seems Israel is allowing Palestinians in Gaza to export their products to the outside world
as part of the government's announcement Oct. 17 that it will offer
economic concessions
to Gaza upon the request of Jared Kushner, the US president's envoy to the Middle East.
Shafey added, "Russian companies will buy 1 kilogram [just over 2 pounds] of strawberries for 18 Israeli shekels [$5.20], while Israeli companies pay 15 shekels [$4.30] for 1 kilogram."
He noted that
Palestinian farmers are considering the possibility of establishing a permanent partnership with Russia to export strawberries, oranges, figs, guavas and
grapes
from Gaza if they can outbid Israeli companies
.
Belal al-Masri, a farmer from Beit Lahia who owns three dunams (0.74 acres) of strawberry crops, told Al-Monitor, "
Russian companies are interested for the first time in strawberries from Gaza and

will purchase the product at a price higher than what the Israelis offered

, which will

compensate for the
losses caused
during years of
Israeli wars
and the
siege
. Moreover,
Israeli companies [in the past] often refused to allow the import of strawberries under the pretext that the fruits did not meet the [Israeli] norms
. This forced us to sell to the local market at a price not exceeding 3 shekels [$0.86] per kilogram, which does not even cover production costs."
Israel has been for years trying to prevent the importation of strawberries from Gaza
. The Israeli authorities at the border crossings leave the products unrefrigerated for hours under the pretext of conducting tests. As a result, the
strawberries go bad
, and Israel returns the fruit to Gaza, claiming that they do not meet the export requirements.
Moeen Rajab, a professor of economics at Al-Azhar University in Gaza, told Al-Monitor, "The offers presented by Russian companies to pay competitive prices for Gaza's products will benefit Palestinian farmers, as they will be able to expand their planting areas to meet local and international demands."
The general manager of the marketing and crossings department at Gaza's Ministry of Agriculture, Tahseen al-Sakka, told Al-Monitor, "The total space allocated to planting strawberries in Gaza this year
reached 908 dunams
[224 acres], compared to 600 dunams in 2016. The production in 2017 is expected to reach about 2,500 tons, compared to
1,500 tons
last season. The space allocated to strawberry growing in hanging containers this year
increased from 12 dunams
last season to 20 this year. One dunam of strawberries costs $2,500 and would produce about 500 kilograms [1,100 pounds] of strawberries annually."
Eid Siyam, the head of the crops department at Gaza's Ministry of Agriculture, told Al-Monitor, "Strawberry crops are one of Gaza's most important export crops.
Strawberry [cultivation] contributes to roughly
11% of Gaza's total workforce
, as it secures at least 44,000 employment opportunities for four months of each year."
Siyam added, "The quality of strawberries from Gaza attract [buyers from] Israel,
Europe
and recently Russia, because it follows the GlobalG.A.P. standards [which are internationally recognized and dedicated to the
Good Agricultural Practices
]. About 30 farmers out of Gaza's 90 farmers growing strawberries work under its umbrella and hold certified products."
According to Siyam, the Ministry of Agriculture is exploring
alternative farming techniques
, such as planting strawberries in greenhouses to test vertical farming.
In addition to the lack of infrastructure, the farmers in border zones also face

Israeli soldiers threatening to shoot at them and destroy irrigation networks and water wells

.
According to the farmers, the lands allocated to planting strawberries decreased from 2,500 dunams in 2006, to
500 dunams
in December 2017.