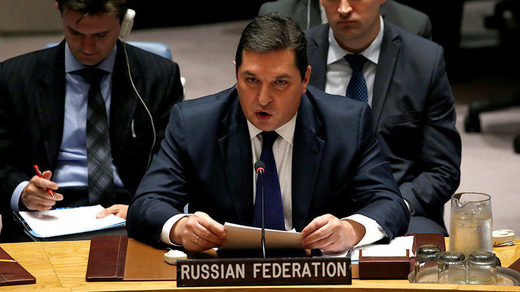 Moscow is ready to become a new mediator in resolving the Israeli-Palestinian conflict, the Russian deputy UN envoy Vladimir Safronkov said. He also added that Russia is ready to host direct talks between the two sides.
Russia is ready to become "an honest mediator" in the Middle Eastern peace process, Nebenzia said at the UN Security Council meeting, after a resolution on Jerusalem demanding the US decision recognizing it as the Israeli capital be withdrawn was vetoed by Washington.
The Russian representative called on all parties to "show restraint" and refrain from any provocative actions. He also said that any unilateral action could exacerbate the conflict between the Israelis and the Palestinians, making the already complicated peace process even more difficult.
Any kind of unilateral action concerning Jerusalem "
increases the risk of a conflict
" in the region and makes direct talks as well as the peace process as a whole more difficult, the Russian envoy to the UN, Nebenzia said, commenting on the issue. He also drew attention to the fact that the issue of Jerusalem is "
the most sensitive issue in the [Israeli-Palestinian peace process] architecture
."
The resolution drafted by Egypt declared any decisions aimed at altering the status of Jerusalem null and void and called for them to be rescinded.
The document was voted on 14-1, with the US being the only member of the UNSC to vote against it.
This decision further isolated the US in its unilateral policy towards the issue of Jerusalem. Even its allies in the UK and France were reluctant to support Washington in this issue.
The French envoy to the UN said in his speech that the US still "
should explain compatibility of its decision [on Jerusalem] with the international consensus
." He also added that France "regrets" the outcome of the vote that has become a symbol of 14 UNSC members' willingness to "
confirm their attachment to the international law
."