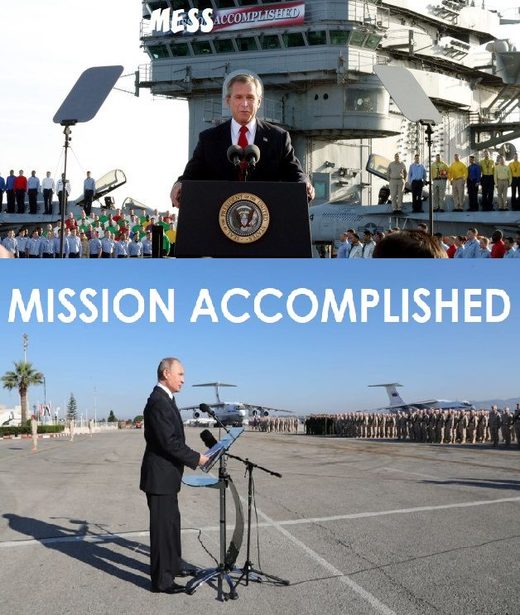 Two years on from Russia's historic intervention in the Middle East to answer an international distress call from Syria, Russian president Vladimir Putin today made
a surprise visit to Khmeimim airbase
in northwest Syria to address Russian troops stationed there, and to tell them in person that they were going home after accomplishing their mission of saving the Arab republic from the scourge of ISIS.
Russia's successful military intervention stands in stark contrast to American intervention in the region
. 14 years ago, US president George W Bush declared 'mission accomplished' aboard a US aircraft carrier just two months into the invasion and occupation of Iraq. Far from marking any accomplishment - for either Iraqis or Americans - it merely foreshadowed a long and brutal period of Iraqi history that culminated in so-called 'Islamic State', the most dangerous terrorist group the world had ever seen. How's that for 'Freedom and Democracy'.
In Putin's first-ever trip to Syria, he was met at the airbase by Syrian President Bashar al-Assad and Russian Defense Minister Sergei Shoigu, where he addressed Russian troops, congratulated them on a job well done and held meetings with President Assad and the Russian general staff.
Putin also announced that Russia would keep its Khmeimim air base in Latakia Province as well as its naval facility at Tartus "
on a permanent basis
".
Addressing Russian servicemen on the airbase runway, Putin praised their courage and professionalism, and announced that most of them would begin returning home:
"I instruct the Defense Minister, the head of the General Staff, to begin the withdrawal of Russian troop contingents back to their permanent locations. The task of fighting armed bandits here in Syria, a task that it was essential to solve with the help of extensive use of armed force, has, for the most part, been solved, and solved spectacularly.

I congratulate you. You have shown the best qualities of a Russian soldier. Friends, the Motherland is waiting for you. If the terrorists again raise their heads, we will deal such blows to them they have never seen."
The Syrian leader, in turn, again thanked Putin for saving his country:
"The achievements that have taken place are very important for us. The theme of our meeting, the destruction of Daesh fighters, is very important for the whole world. On behalf of the whole people of the Syrian Arab Republic, I express my deep gratitude for the role your armed forces played.

The victories that have been achieved have affected not only our state, but also neighboring countries. This blood, shed on Syrian land, confirms that they are stronger than terror, and the memory of the dead of both armies and their courage will be a guiding light for future generations."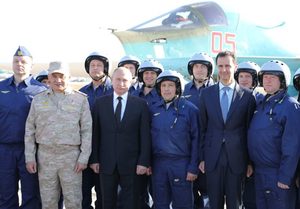 Having preserved Syria as an independent sovereign state, Putin also underscored that the defeat of ISIS in both Syria and Iraq - the latter just days ago having announced
the eradication of ISIS from its territory
- means that conditions for a political settlement in Syria under the auspices of the UN have been created, and that
the refugees may now return home.
While Western media is downplaying the end of the 'Islamic caliphate' and the return of stability to Syria and Iraq - specifically Russia's positive contribution to peace - it will be interesting to see what Western leaders like Angela Merkel, who
in early 2016
said she expected that refugees would return home from Germany once peace was restored in the region, will do with this opportunity.
Given the West's ideological obsession with isolating Russia and ousting al-Assad, I fear it's rather likely that the status of Syrian refugees in the EU will remain a political football.
Regarding Syrian territorial issues, Putin's 'mission accomplished' is not, of course, the final word on Syria. Some 2,000 US troops remain - illegally - in the northeast of the country. But with the Russians running rings around the Americans in terms of forging diplomatic alliances with all key players in the region, there is not much that US military presence alone can do to 'win back' the region. All have now seen what Russia is capable of and what an honest 'world policeman' really looks like.
Concluding his business in Syria, Putin then boarded his plane for Cairo,
where he met Egyptian leader Abdel al-Sisi
to discuss advancing trade agreements, a political settlement in Syria, and the wider situation in the Middle East. In the last leg of his tour of the region, Putin will visit Erdogan in Turkey this evening.