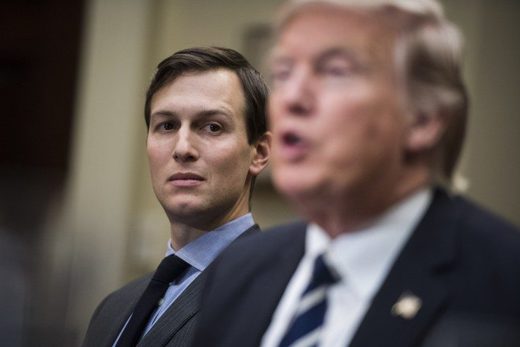 Liberal mainstream media is desperate to bring down US president Trump.
In a recent Buzzfeed article detailing Michael Flynn's plea deal with Mueller, one would be goaded into thinking that Flynn's deal is the smoking gun to prove Russia helped Trump steal the election from Hillary Clinton.
Diving a bit deeper into Buzzfeed's piece shows that
Trump advisor Jared Kushner directed General Michael Flynn to do his job and contact various members of the UN Security Council in relation to an Israeli settlement resolution.
Why is the liberal left so giddy about a UN resolution vote connected to Israel...a vote that has absolutely nothing to do with the US election?
Via
Buzzfeed
...
Friday's guilty pleas revealed for the first time how Trump transition officials solicited Russia's help to head off the UN vote and undermine the Obama administration's policy on Middle East peace before ever setting foot in the White House.

At the time, Obama administration officials viewed the Trump team's interventions as an egregious breach of diplomatic protocol and a shameless attempt to boost their pro-Israel bona fides despite long-standing US policy that Israel's construction of settlements constitutes an obstacle to peace.

According to the charge sheet, Flynn, on Dec. 22, 2016, asked Kislyak to use Moscow's status as a permanent Security Council member to delay or defeat the pending resolution, and subsequently lied about those discussions with the FBI.

It's unclear why Flynn would have lied, but there are laws that could criminalize such behavior such as the Logan Act, a scarcely enforced law that prohibits unauthorized citizens from negotiating with foreign governments that have a dispute with the United States.

In the run-up to the vote, both Flynn and Kushner called several officials of Security Council member states in order to block or delay the resolution. Flynn personally called foreign ambassadors on the Security Council, including representatives of Uruguay and Malaysia, according to a February report by Foreign Policy.

But Flynn's contacts with Kislyak regarding the resolution had not been previously known and could potentially be relevant to Mueller's investigation into allegations of collusion between Russian officials and Trump campaign staffers.

Ultimately, the episode represented the first foray by Trump's inner circle into foreign policy deal-making, though one that fell flat on its face. The goal was to either block the resolution or delay it until Trump could enter the White House and deliver a veto. Shortly after the vote, however, Kushner did have some success in pressuring British Prime Minister Theresa May to align Britain's policies closer to the incoming administration's. In a late December speech, May criticized then-secretary of state John Kerry's rebuke of Israel's settlement policies, an unusual remark and a transparent gift to the Trump team given Britain's vote in support of the UN resolution.
In other words, Kushner directed Flynn to gather support to block an anti-Israel UN resolution. Where is the US election meddling in all of this?