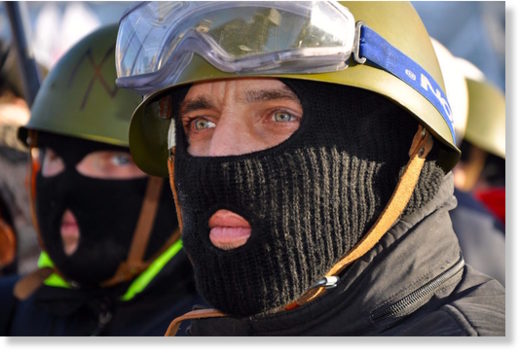 Comment:
Gordon Hahn sums up the new revelations on the previously mysterious snipers at Maidan. They come from an Italian
documentary
, published on Facebook by the world's leading expert on the Maidan sniper attack, Ottawa University Professor Ivan Katchanovski:
...it appears not to have been a group managed by Russian President Vladimir Putin's advisor, Vyacheslav Surkov, or a Russian 'wet team' as claimed by US ambassador to Ukraine Geoffrey Pyatt. Rather, it included both Lithuanian and Georgian snipers recruited by Mamuka Mamushvili, a Georgian military advisor to former Georgian President Mikheil Saakashvili, Washington's 'beacon of democracy' in Eurasia, and an American military operative, Brian Christopher Boyenger, formerly of the famous 101st Airborne Division, based in Fort Campbell, Tennessee. Mamuka Mumashvili organized and fought with the Georgian National Legion, which included according to one FB post I show below, "three retired US officers." One of the Georgian snipers allegedly recruited by Mamulashvili and Boyenger was a member of Saakashvili's body guard detail at the time.
Georgian snipers, who previously served in Saakashvili security, reportedly confess to massacring along with Lithuanian snipers both police and protesters on the Maidan in a new Italian documentary film: "Everyone started shooting two or three shots at a time. It went on for fifteen, twenty minutes. We had no choice. We were ordered to shoot both on the police and the demonstrators, without any difference. I was totally outraged." So Georgian Alexander Revazishvilli remembers the tragic shootout of 20 February 2014 in Kiev when a group of mysterious snipers opened fire on crowds and cops massacring over 80 people.
Revazishvilli's confessions and two other Georgians - gathered by writers in the documentary "
Ukraine, the hidden truths"
aired tonight at 23.30 on Matrix, Channel 5 - reveal a different truth and disconcerting.
The truth of a massacre and the same opposition that accused Yanukovych and his Russian allies
. Revazishvilli and his two companions - met and interviewed in the documentary - are a former member of the security services of former Georgian President Mikhail Saakashvili and two former militants of his own party. Hired in Tbilisi by Mamuka Mamulashvili, Saakashvili's military advisor, are tasked with supporting - along with other Georgian and Lithuanian volunteers - ongoing demonstrations in Kiev in return for a $ 5,000 final fee. Having fake passports arrive in Ukraine to coordinate demonstrations and lead the Ukrainian police, initially without using weapons. The weapons come on stage on February 18 and are distributed to the various Georgian and Lithuanian groups by Mamulashvili and other leaders of the Ukrainian opposition. "There were three or four weapons in each bag, there were Makarov guns, Akm guns, rifles, and then cartridges." The following day Mamulashvili and the leaders of the protest explain to volunteers who will face a police assault at the Conservatory building and at the Ukraine hotel.
In that case - he says - we must shoot at the square and sow the chaos.
But one of the protagonists confesses to having received another explanation much more comprehensive. "When Mamulashvili arrived, I also asked him. Things are getting complicated, we have to start shooting - he replied that we can not go to the pre-election presidential elections. But who should shoot? "I asked.
He replied that who and where it did not matter, you had to shoot somewhere so much to sow chaos. "
"It did not matter if we fired at a tree, a barricade, or the molotov. confirms another volunteer - what counts was sowing confusion. Listen to the screams confess Alexander - there were dead and injured. My first and only thought was to leave me in a hurry before they caught up with me. Otherwise they would break me. Someone was already shouting that there were snipers.
Four years later Alexander and his two companions reported that they had not yet received the slightest reward and had also decided to tell the truth about who used them and abandoned them. "At that time I did not realize, I was not ready, then I understood. We've been used. Used and stuck.
"
Article (in Italian)
La versione dei cecchini sulla strage di Kiev: «Ordini dall'opposizione»
TV-Report
(in Italian)
Comment:
A Google translation of the full transcript, provided
by Prof. Katchanovski
:
Who has massacred over eighty of demonstrators and cops gathered at Maidan Nezalezhnosti ,Kiev Independence Square heart and symbol - up to that fateful February 20, 2014 - of the events in favor of the Association Agreement with the European Union ? The anti-Russian opposition made government after the Russian leader's retreat Viktor Yanukovych has always pointed his finger at the special forces of the deposed president accusing them of sending a team of snipers to shoot the demonstrators to drown the protest in a blood bath. Already then, however, many raised doubts and perplexities.

The first to contest that version was Foreign Minister Urmas Paet. Returning from a trip to Kiev only 5 days after the massacre reported in a phone call to EU Commissioner for Foreign Affairs Catherine Ashton, revelations from a Ukrainian doctor who examined the cadavers of Piazza Maidan. The intercepted phone call spread by the Russian media is disconcerting.

"The most disturbing thing - Paet explains - is that all the evidence shows that people killed by snipers - both the cops and people in the street - were killed by the same snipers ..." Faced with the perplexity of a visibly embarrassed Ashton, the minister cites the testimony of the Ukrainian doctor. "She speaks as a doctor says it is the same signature, of the same kind of bullets. It is really disturbing that now the new coalition - Paet reaffirms - refuses to investigate what is really going on. There is a very strong conviction that there are behind the snipers .... That there is no Yanukovych, but some of the new coalition ... ".

At four years from the beginning of November 2013 of Maidan's demonstrations we are able to describe another truth, completely different from the official one. Our story begins towards the end of summer 2017 in Skopye, the capital of Macedonia. There after long and complex preliminaries we meet Koba Nergadze and Kvarateskelia Zalogy two Georgian protagonists and witnesses of that tragic shootout and subsequent massacre.

Both Nergadze and Zalogy are linked to former Georgian President Mikhail Saakashvili , who starring in August 2008 of a short but bloody war with Russia's Vladimir Putin . Nergadze, as evidenced by an identification card he holds, was a member of a security service at the president's orders. Zalogy is a former Saakashvili party activist. "I decided to come to Skopije to tell you everything we know about what happened ... and I and my friend have decided together, we need to shed some light on those facts," Nergadze says. The same will say Alexander Revazishvilli a few months later, a former target shooter of the Georgian army starred in the Maidan shootout, met in another Eastern European country. All three of our protagonists say that they were recruited at the end of 2013 by Mamuka Mamulashvili , a Saakashvili military advisor who after Maidan's facts will move to the Donbass to lead the so-called Georgian Legion in clashes with Russian wire insurgents. "The first meeting was with Mamulashvili at the office of the National Movement," Zalogy said. "The Ukrainian uprising in 2013 was similar to the" Pink Revolution "that took place in Georgia years before. We had to direct and guide it using the same pattern used for the "Pink Revolution".

Alexander's version is no different. "Mamuka first asked me if I was really a chosen shooter - Alexander remembers - he immediately told me he needed me in Kiev to pick some places." Our protagonists, aggregated to various groups of volunteers between November 2013 and January 2014, receive passports with false names and money advances. "We left on January 15 and on the plane - Zalogy remembers - I received my passport and another with my photo but with different names and surnames. Then they gave us a thousand dollars to the head promising to give it another five thousand more there."

Once in Kiev, our three protagonists begin to understand better why they were recruited. "Our task - Alexandere explains - was to arrange provocations to push the police to charge the crowd. Until the middle of February, however, there were not many weapons around. The molotovs, the shields and the sticks were used to the maximum. " But in mid-February, clashes around Maidan begin to get worse. "About 15 and 16 February," Nergadze remembers, "the situation has begun to become more serious every day. He was out of control now. And in the meantime, the first shoots were heard. "With the rise of tension new players come into play

"One day around February 15 - remembers Alexander - Mamualashvili personally visited our tent. There was another guy in his uniform with him. He introduced him and told us he was an instructor, an American soldier . " The US military is called Brian Christopher Boyenger and is a former officer and shooter of the 101st Airborne Division. After Maidan moves on the Donbass front, where he will fight in the ranks of the Georgian Legion alongside Mamulashvili.

"We were always in touch with this Bryan - Nergadze explains - he was a Mamulashvili man. It was he who gave us the orders. I had to follow all his instructions."

The first suspects on the presence of firearms among the ranks of demonstrators involve Serghey Pashinsky, a leader of Maidan Square, who became, after the fall of Yanukovych, chairman of the Kiev parliament. On February 18 - as a movie shot that day - a car rifle locked by a car shot by a demonstrator shows a machine gun. Few seconds after Pashinsky approaches and orders to let her go. The next day a handful of weapons were distributed to groups of Georgian and Lithuanian militants residing in Hotel Ukraine, the hotel overlooking the square used as a headquarters by opposition

"In those days, Pashinsky and three other people - including Parasyuk - have taken the weapons handbags to the hotel. They were going to get them into my room," Nergadze says. Volodymyr Parasyuk is one of the leaders of the Maidan Square protest. After the massacre of demonstrators, he will become famous for an ultimatum in which he will threaten to use weapons to chase President Viktor Yanukovych.

"On February 18 - remembers Zalogy - someone took some weapons in my room. In the room with me there were two Lithuanians, the weapons were taken by them. " "In each bag - remembers Nergadze - there were Makarov's pistols, Akm carburetors, carbines. And then there were packets of cartridges. When I first saw them I did not understand .... When Mamulashvili arrived, I also asked him. "What's going on," I told him, "what are these weapons? Is everything all right? "Koba things are getting complicated, we have to start shooting," he replied, "we can not go to the pre-election presidential elections ..." "But to whom should we shoot? And where? "I asked him." He replied that where he did not care, he had to shoot somewhere ... so much to sow some chaos."

While Nergadze and Zalogy assist in arms distribution at the hotel Alexander Revazishvilli and other volunteers reach the Conservatory, another palace overlooking the square. "It will be February 16th ... Pashinsky ordered us to collect our belongings and bring us in ... .There came other people, they were almost all masked. From the purses I understood ... they carried weapons .... They pulled them out and handed them over to the various groups. Only Pashinsky was talking ... "He was giving orders. He asked me where we were supposed to shoot. " "In the meantime - explains Nergadze - even at the Ukraine hotel, the leaders of the revolt underline the hypothesis of using the weapons. " They explained to us to shoot to create chaos and confusion. We did not have to stop. It did not matter if we fired at a tree, a barricade, or the molotov. The important thing was to sow the chaos. " On the 20th morning the weapons come into action. "It was supposed to be dawn," Zalogy remembers, "when I heard the sound of the shootings ... they were not bursts, they were single strokes ... came from the next room. At that same time, the Lithuanians opened the window. One of them fired one shot while the other closed the window. They have fired three or four times everywhere. " Alexander, admitting he was involved in the shootout from the Conservatory building, claims to have understood very little. "Everyone started shooting two or three shots at a time. We did not have much choice. We were ordered to shoot both the Berkut, the police, and the demonstrators, no matter what. I was totally outraged. It went on for fifteen minutes ... maybe twenty. I was out of my mind, agitated, under stress, I did not understand anything. Then suddenly after 15, 20 minutes the shootings have ceased and everyone has put down the weapons. " As wounded and dead arrive in the Ukrainian Hotel Salon the snipers flee from the rooms. And so the victims find themselves next to their assassins. "Inside," remembers Nergadze, "there was the chaos, you did not understand who they were and the others. People ran back and forth. Someone was hurt ... someone was armed. Outside was even worse. There were so many injured in the streets. And they're all dead. " Alexander says he has gone in a hurry. "Someone was shouting that there were snipers, I knew what they were talking about," she said, "my only thought was to disappear before they knew about me. Otherwise, they cracked me. At that time, however, I did not realize - I understand - I understand. We've been used. Used and stuck ." (Ucraina, le verità nascoste Parlano i cecchini di Maidan - Gli occhi della guerra Chi ha massacrato oltre ottanta fra dimostranti e poliziotti riuniti a Maidan Nezalezhnosti, la Piazza dell'indipendenza di Kiev cuore e simbolo - fino a quel...", 16 November 2017, http://www.occhidellaguerra.it/ucraina-le-verita-nascoste-.../).

Prof. Katchanovski assesses the information in the Italian documentary as follows: "The information given by them appears to be generally consistent with various publicly available evidence that I examined in my studies and that was revealed at the Maidan massacre trial. This includes locations of many of the snipers in the Hotel Ukraina and the Music Conservatory, exact calibers of firearms used to massacre protesters, the involvement of the Right Sector-linked special Maidan armed company under Parasiuk's command, and a well known video of a Maidan leader who was filmed evacuating a Maidan protester with a rifle. But my study is concerned with the research question as to which side of the conflict was involved in the massacre and not with involvement of specific persons and with identities of specific snipers and massacre organizers. Experts, government investigations, and journalists in the West, Ukraine, and Georgia can verify the identities of these people and the government document id shown by one of them"