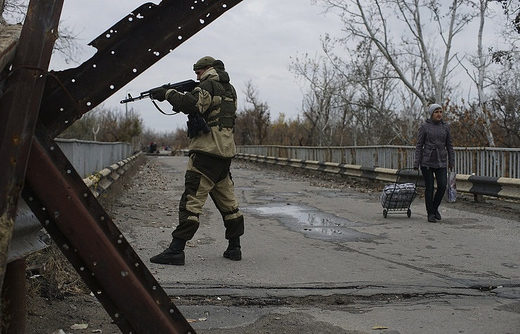 Russia and the US have thoroughly discussed the possibility to deploy a UN mission to eastern Ukraine, Russian Presidential Aide Vladislav Surkov said following his meeting with US Special Representative for Ukraine Negotiations Kurt Volker, held in Belgrade on November 13.
"We thoroughly discussed the Russian initiative on the deployment of a UN mission to Ukraine," he said.
During the meeting, the US representative presented proposals concerning the Russian-drafted resolution. "Our American friends presented their
proposals
concerning our Security Council draft resolution, which contained 29 paragraphs." "Our delegation came to the conclusion that
three of them were acceptable
," the Kremlin aide added. According to Surkov,
the parties decided to continue the work to bring their positions closer
.
Both Surkov and Volker were confident that "the Minsk Agreements should be implemented." "In order to do that,
there is a need to accelerate the fulfillment of Kiev's political obligations
and at the same time strengthen security in the conflict zone," Surkov said.
This was the third meeting between the Russian and US representatives held in 2017. Surkov and Volker earlier held talks in the Belarusian capital of Minsk on August 21 and in the Serbian capital of Belgrade on October 7.
Russia's initiative
In early September, upon Russian President Vladimir Putin's instructions, Russia's Permanent Mission to the United Nations forwarded a draft resolution to the UN Secretary General and Security Council, which stipulates the deployment of UN peacekeepers to Donbass in order to ensure the OSCE mission members' security. Putin pointed out that the deployment of the UN forces would become possible only after the weapons withdrawal process completed and the issue was agreed on with the self-proclaimed Donbass republics. The Russian president said that the deployment of the UN forces could help resolve the Ukrainian issue. In a telephone conversation with German Chancellor Angela Merkel, Putin agreed that it might be possible to deploy UN peacekeepers not only along the line of contact in Donbass.
However, the Ukrainian authorities said they were not satisfied with the format of the mission proposed by Russia and demanded that "peacekeeping forces" be deployed on the Ukrainian-Russian border.