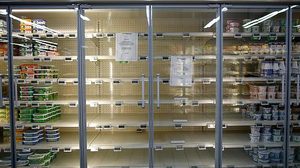 Supermarkets in France are struggling to stock enough butter for their customers due to a shortage of the dairy product that's been blamed on a rising global demand for pastries.
Brittany and Normandy have reportedly been hit particularly hard as the appetite for croissants and butter in Asia and the Middle East soars.
The current butter shortage has its origins in a 2015 decision made by the EU to abolish its system of milk quotas. A glut of milk supplies followed and global prices collapsed, forcing dairy farmers to dramatically scale back their output.
This decline in production came as butter was enjoying something of a comeback thanks to research suggesting that saturated fats were not as harmful as once thought. Now the current enthusiasm for French pastries in emerging economies appears to be the tipping point as butter prices soar in the country (60% in the last year alone according to official data), leaving the household staple in short supply.
While supermarket customers stock up on butter where they can, bakeries have also been feeling the pinch. For many bakers, using the finest butter in their recipes is a point of pride and they are refusing to substitute for the cheaper alternative of margarine. Inevitably, the bakers have little choice but to pass on the increased costs to their customers through higher prices.
The shortage is also putting jobs and livelihoods at risk, as pastry producers who are struggling to source enough butter to maintain output cut back their workers' hours. As a result, orders from emerging markets for pastry products are increasingly going unfulfilled.
French newspaper
Le Figaro
has described the shortage as
"
the worst since the Second World War
"
, and in the past few days it published
a 'survival guide' offering its readers tips for cooking without butter
. And with Christmas just around the corner, the outlook also looks bleak for traditional favourites like the Yule log.