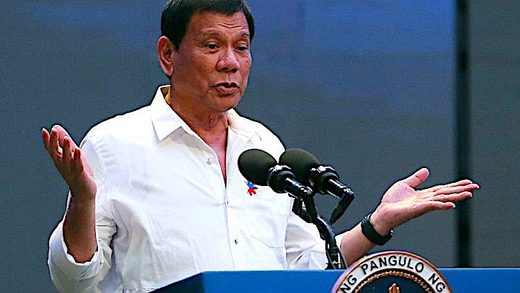 The US continues to meddle in the sovereign affairs of the democracy in Philippines.
Yesterday, Philippines President Rodrigo Duterte made headlines for
slamming an alleged group of EU representatives holding a protest in favour of returning to the old lax drug laws in the country.
The EU, both at an official and unofficial level, has threatened to withdraw funds from Philippines over President Duterte's push to eliminate the drug and associated crime problem from his country. Duterte remains
highly popular
in Philippines as a result of his campaign.
Duterte blasted the so-called EU delegation saying,
"You think that we are a bunch of morons here. Because we can have the diplomatic channel cut tomorrow. You leave my country in 24 hours. All. All of you! We are past colonisation stage. We will be excluded in the UN? You son of a bitch. Go ahead. You are interfering in our affairs because we are poor. You give money and then you start to orchestrate what things should be done".
While the EU was quick to
distance itself
from the group of rogue delegates who did not represent the Brussels body in anything approaching an official capacity, veteran
Philippine diplomat Rigoberto Tiglao has exposed something even more dangerous about the delegation.
While the delegation purported to all be compromised [(sic) comprised] of EU officials,
there was one man among the crowd who represented the notorious American organisation USAid, a state-run body which typically falsely characterises itself as an NGO.
USAid earned an infamous reputation in Russia during the 1990s, when the group helped funnel millions of Dollars into political and business interests that took a pro-US line. The group was further accused of aiding the CIA in the open meddling conducted by Washington in the 1996 Russian Presidential election.
Since 2012, USAid has been
banned
in Russia, but the organisation continues to agitate for regime change against anti-colonial, sovereignty minded governments around the world.
Tiglao writes the following about the
delegation
,
"What is worrying though -- over which our government should file a diplomatic protest -- is that one of the seven supposedly "European" parliamentarians protesting the alleged killings by the Duterte administration, is actually an American government official, Thomas O. Melia, assistant administrator for Europe and Asia of the US government's Agency for International Development. Is it now US official policy to destabilize this government through allegations of human rights violations?

We have lost all sense of nationalism and integrity as an independent people if we are not angry at the PDI's front page. It insults our country on three levels.

Firstly, we should be mad at such a brazen interference in our domestic affairs. We are a sovereign country with our own Constitution, our own body of laws. What right do these Europeans have to meddle in our affairs, when we obviously still have the rule of law.

Have they meddled over the US invasion of Iraq; over the hundreds of Muslims kidnapped by the US and tortured in their Guantanamo fortress, many kept nearly a decade without charges; over alleged genocide of the Rohingya in Burma; or even over the ruthless police brutality in their continent, in Catalonia?"
He went on to describe many of these NGOs as "mostly small-time but noisy NGO activists in their countries".
Below is a photograph of the "protest" with the USAid official Thomas O. Melia, circled in red.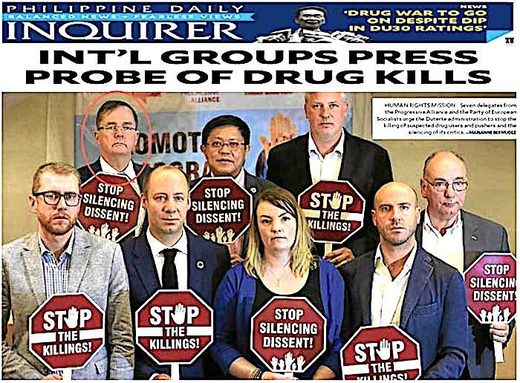 A further photo of the disingenuous delegation shows the "protesters" standing behind [in front of] a banner of the Akbayan organisation. Akbayan is widely understood as little more than an arm of the Liberal Party of Philippines, which has been working to oust President Duterte from office, ever since his election.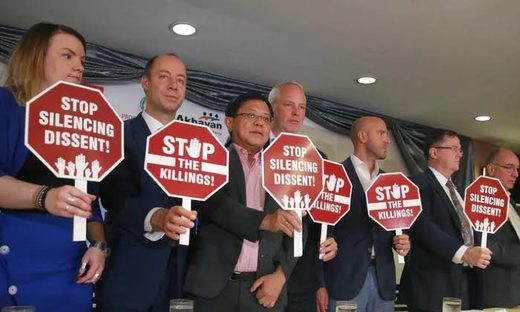 This hammers home the grim reality that an American organisation with known ties to the CIA and other 'deep state' bodies in Washington, is actively working with agitation-minded groups in Philippines, to meddle in the domestic political affairs of Manila's democracy.
While the US continues to accuse Russia of meddling in the 2016 American Presidential election, in spite of
uncovering no evidence
, in Philippines the US itself has been continually attempting to undermine, destabilise and delegitimise the administration of Rodrigo Duterte.
One of the reasons the US continues to meddle in Philippine democracy is due to President Duterte's geo-political pivot away from a post-colonial United States and towards both China and Russia, in a policy which looks to assert the independence of Manila in all foreign policy making matters.
During a meeting with Chinese President Xi Jinping in Beijing, the Chinese leadership hailed the Duterte era as a "golden period" in relations between the two countries.
Duterte has also spoken with President Putin in Moscow about creating new security and economic avenues between Manila and a Russian government which continues to seek business opportunities among the ASEAN countries.
Now that Russia and Syria have both shown that
ISIS colluding with US special forces
and the US proxy militia SDF in the Middle East,
many statements linking ISIS activity on the southern Philippine island of Mindanao (Duterte's birthplace) to an attempt by dark forces within the Washington regime to further destabilise Philppines by funding radical terrorist groups, takes on a newly worrying character.
Indeed, Duterte had pledged to bring peace to the Moro (Philippine Muslim) communities of the south who for decades have been engage in a struggle against Manila. It is clear that some foreign force has funded ISIS linked terrorists in Philippines in order to attempt and throw Duterte's peace process into disarray.