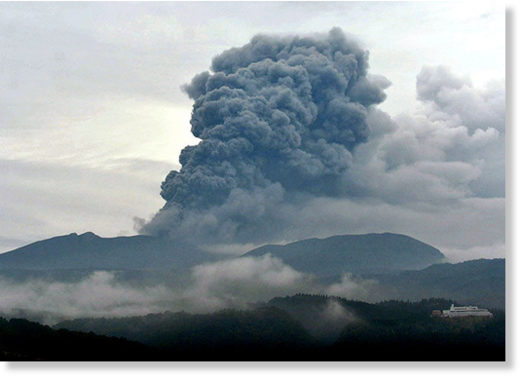 Kyushu's Mount Shinmoedake is still rumbling with volcanic activity
three days after it blew its top for the first time in six years on Oct. 11.
The Japan Meteorological Agency said an eruption that started at 8:23 a.m. on Oct. 14
sent a plume of smoke 2,300 meters into the air.
The 1,421-meter-high mountain straddles the border of Miyazaki and Kagoshima prefectures in southern Kyushu. The JMA raised the volcano's activity alert to Level 3, warning people to stay away from the mountain. The alert had been at Level 2, which meant climbers should stay away from the crater.
Around 4 p.m. on Oct. 13, the JMA announced that consecutive eruptions appeared to have stopped as the fluctuation of volcanic tremors had weakened.
But the agency continued to urge caution as it believed volcanic activity was continuing.