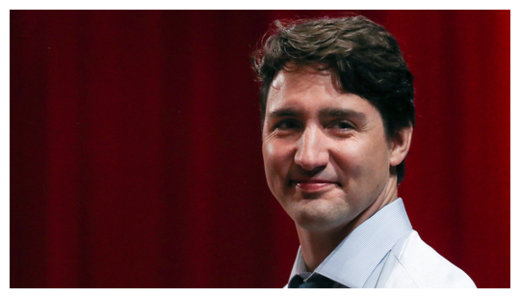 Canada is experiencing a sharp surge of illegal aliens, and they're not just a few angry Hillary voters making good on their bluster about moving north if Donald Trump won the election.
Canadian Prime Minister Justin Trudeau had a high old time needling America in January, tweeting, "To those fleeing persecution, terror and war, Canadians will welcome you, regardless of your faith." Thousands of the tired, the poor and the huddling miniature masses have taken him at his word.
He's offering not hospitality now, but quibbles.
Ottawa says Royal Canadian Mounted Police has intercepted
13,211 persons attempting to sneak into Canada from the United States this year
, as of mid-September, including 5,712 in August alone. The August figure is
twice the number intercepted in all of 2016
.
The Canadian figures seem miniscule compared to the hundreds of thousands attempting to slip into Arizona, California, New Mexico and Texas from Mexico every year. Relative to Canada's population, however, the border is aswarm with prospective newcomers.
The population of the Great White North is about 36.3 million, or one-ninth of the numbers in the United States, which makes the 13,211 illegal aliens equivalent to 120,000 here.
The August figure of 5,712 was up 82 percent from the 3,300 the Mounties apprehended in July. The border jumpers often slip into Canada from Champlain, N.Y., into the Quebec town of Saint Bernard De Lacolle.
Canadian officials are trying to dispel what they call "misinformation" that it's easy for illegals to get in.
"Social media messages have been circulated that suggest the Canadian government gives asylum seekers a free pass into Canada," says a spokeswoman for the government. "We would like to reiterate that these reports are entirely false." Nearly all of the attempted crossings - 97 percent - are trying to get into French-speaking Quebec.
Haitians, many of whom speak French, make up a disproportionate share of the illegal arrivals.
Many of the Haitians had been in the United States since an earthquake devastated their Caribbean island in 2010, and were given asylum through a humanitarian relief program by the Obama administration under what was supposed to be "Temporary Protected Status."
Thousands more Haitians joined them in the final year of the Obama administration, lured by the loose border, and they now number an estimated 58,000. Seven years later, the Trump administration announced in May that it would terminate the program in January, with no further 18-month extensions.
While the prospect of returning to their impoverished homeland is understandably unappealing to these Haitians, especially after enjoying seven years of U.S. hospitality, American charity is stretched to the breaking point. Hence the lure of Canada. No other country has taken in nearly as many immigrants, refugees and asylum-seekers as the United States, which owes no one an explanation or apology for finally strengthening its border. Canada, our good neighbor to the north, understands that now.