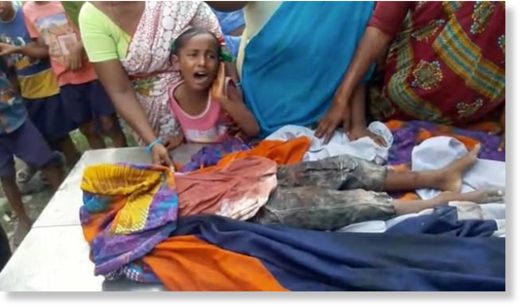 A shocking video shows a small boy crying for help while lying in a pool of blood after being mauled by 17 stray dogs in India.
Four-year-old Praveen Kumar left his house in Guntur, southern India, with his sister to play with other children on Thursday, when a pack of dogs attacked him.
The dogs bit the child in the neck, face, hands, chest, shoulders and legs in an attack that lasted more than 30 minutes until he was left in a semi-conscious condition.

His parents claimed neighbours heard the attack and ran out but proceeded to film the incident on their phones instead of rescuing the child while he screamed and cried for help.
Achyuta Rao, President of the Child Rights Association who is now involved in the case, said: 'The dogs pounced on the child and bit him indiscriminately.
(
WARNING: GRAPHIC CONTENT
)
'Onlookers watched the incident and instead of rescuing him and taking him to hospital, they mercilessly captured the episode on their mobile phones.
'They were also scared of dogs. It is tragic to see such irresponsibility from the municipal corporation.'
His parents Yesu Kumar, 32, and Malleswari, 28, both daily labourers earning Rs 150 (£1.70) a day, rushed him to a nearby government hospital where he was declared dead.
Dr DS Raja Naidu, Medical Superintendent, at Guntur Government Hospital, said: 'The child was brought to us already dead in the evening. He had succumbed to multiple wounds and excessive blood loss as he was brutally attacked.'
Achyuta Rao added that the victim's mother had lodged a complaint with the Guntur Municipal Corporation last week reporting the stray dogs for creating mess near her home.
He said: 'She actually complained to the corporation but she received no response.
'She cries that her son could have been alive today if necessary actions had taken place.
'We are now going to approach Human Rights commission to take action against the Guntur Municipal Corporation.
'It's their responsibility to make the roads safe for people and this incident should be taken into consideration.'
Additional Commissioner Ramchandra Reddy, in Guntur Municipal Corporation, said: 'We have come to know about the unfortunate incident that happened yesterday.
'We are continuously sterilizing more than 2,300 dogs in this area and we are sending out teams to catch stray dogs as we cannot kill them until we get an order from the Supreme Court.
'We know that Guntur has a large number of stray dogs in the state and we are working on the matter to curb this menace.'