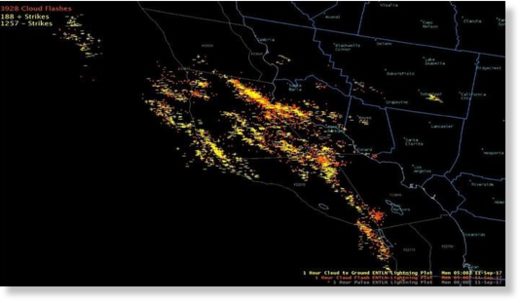 A volatile storm brewing over Southern California produced nearly 40,000 lightning strikes and threatened to bring more rain and thunderstorms Monday, forecasters said.
The lightning and in-cloud flashes were observed in the last 24 hours over Los Angeles, Santa Barbara, San Luis Obispo and Ventura counties, with the most activity occurring Sunday evening, according to the
National Weather Service
.
In one instance, forecasters recorded more than 5,000 lightning bolts in the area over a three-hour period.
"That's a lot," said meteorologist Kathy Hoxsie of the weather service in Oxnard.
Although the storm brought plenty of lightning, rain totals were less than half an inch in Santa Barbara County on Sunday. The greatest rain total was observed at Sudden Peak, which received .44 inches.
In Los Angeles County, Lake Palmdale received .02 inch of rain.
Forecasters said a low-pressure system lingering off the Southern California coast was pulling moisture from the southeast and dumping rain over the area.
By Monday morning, heavy showers, thunderstorms and 35-mph winds were reported in eastern Los Angeles County.
"We're still not quite out of the woods yet as models show another increase in instability this afternoon, especially across interior [San Luis Obispo] County," the weather service said in a statement.
The showers should move out of the Southern California by Tuesday and will be replaced with a deep marine layer for the rest of the week.