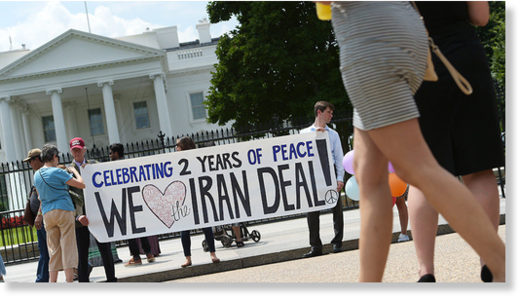 Tehran should not be allowed to use the nuclear deal as a bargaining tool and "hold the world hostage," the US ambassador to UN has said after Iran's president Hassan Rouhani warned that Tehran could backtrack on the 2015 agreement "within hours" should new sanctions be imposed.
"Iran cannot be allowed to use the nuclear deal to hold the world hostage. The nuclear deal must not become too big to fail," Nikki Haley said in response to Rouhani's remarks.
On Tuesday, Rouhani told a session of parliament, broadcast live on state television, that if Washington goes back to its practice of imposing unilateral sanctions, then "Iran would certainly return in a short time - not a week or a month but within hours - to conditions more advanced than before the start of negotiations."
In early August, US President Donald Trump signed into law a bill, which introduces sanctions on Iran, along with North Korea and Russia. Tehran considers it a violation of the landmark 2015 nuclear agreement.
Haley, however, claimed that US sanctions were an unrelated issue and were designed to punish Tehran for its "missile launches, support for terrorism, disregard for human rights, and violations of UN Security Council resolutions."

Comment: If the US should sanction anybody for the above acts, it should be themselves. They are the ones who support terrorism and disregard human rights.


Under the deal, called the Joint Comprehensive Plan of Action (JCPOA), and signed by Tehran and major world powers - the US, France, Britain, Russia, and China, plus Germany - Tehran officially agreed to halt parts of its nuclear program and subject other sectors to increased UN monitoring. In response, Western countries agreed to lift sanctions.
On July 27, as part of its space program, Iran successfully tested a two-stage rocket meant to deliver small space satellites into orbit. The US government considered it a violation of the UN Security Council resolutions, saying the technology may potentially be used to carry a nuclear payload.
"Iran would not be the first to pull out of the nuclear deal, but it will not remain silent about the US repeated violations of the accord," the Iranian president said earlier this month. "Those who want to tear up the nuclear deal should know that they will be ripping up their own political life."