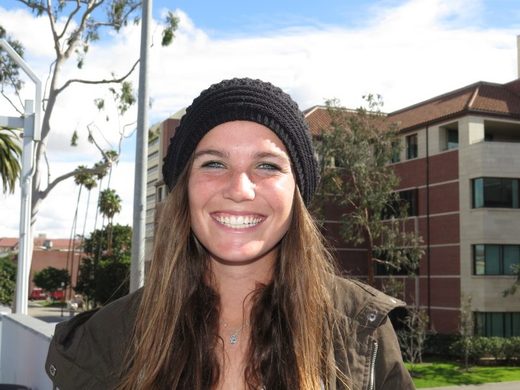 A former football player was "railroaded" by a "rogue" Title IX office at the University of Southern California, according to a surprising source - his alleged "victim."
Zoe Katz, the captain of USC's women's tennis team, is accusing the university of not only ignoring her protestations that her boyfriend Matt Boermeester didn't assault her, but threatening her for speaking up.
Boermeester, a redshirt junior kicker, was suspended from USC in February
after a neighbor saw the football player allegedly assault Katz a month earlier
. That claim was repeated to a coach and then to the university Title IX office, according to the
Los Angeles Times
.
The following "six-month" Title IX inquiry took the form of "repeated interrogations" plagued by "agendas, intimidation and falsehoods,"
Katz wrote in a two-page statement dated Sunday given to The College Fix from her attorney.
She denounced USC for conducting a "horrible and unjust" investigation: "Looking back, Matt never had a chance.
Before he was even interviewed by the Title IX investigator, he was suspended from the University
."
The allegations closely resemble those made in a lawsuit against Colorado State University-Pueblo by athlete Grant Neal, who was found responsible for rape
after his girlfriend, an athletics staffer, said their sex was consensual
. CSU-Pueblo
recently settled
with Neal.
USC insisted she was 'battered' and afraid
The university didn't give an explanation last week when the
athletics department said
Boermeester "won't return because of a student code of conduct issue." A spokesperson Sunday said Boermeester is
no longer a student
.
"I was told that I must be afraid of Matt, which I definitely was not and am not," Katz wrote in her statement denouncing USC.
"When I told the truth about Matt, in repeated interrogations, I was stereotyped and was told I must be a 'battered' woman, and that made me feel demeaned and absurdly profiled."

Comment: 'Compassionate' gaslighting?


Instead she fears "further" retaliation from USC's Title IX office, which she says isolated her by
prohibiting her from speaking with Boermeester and even her own friends
:
Terrible and untrue things have been said about Matt by people who don't even know him, including apparently the third party who contacted Title IX, and these bizarre assertions have been treated as fact in this investigation. Words, including mine, have been incompetently or intentionally misrepresented, misquoted and taken out of context, which should not be that surprising since no statements were recorded or verified.
It's one of the worst abuses of Title IX that Katz's attorney has seen in his three decades in criminal law.
"I don't know the purported power of this Title IX agency, but Zoe is very fearful," Kerry Steigerwalt told The Fix in a phone call Monday.

'Treating her like some little know-nothing'
The university
unilaterally instituted a no-contact order between Katz and Boermeester
and reprimanded her for speaking to a friend who was later called on to testify, Steigerwalt said.
In February, a day after USC announced Boermeester's indefinite suspension, Katz tweeted that the unnamed investigation was "false."
This tweet, or one like it, landed her an admonishment from the Title IX office to refrain from tweeting about the ongoing investigation, according to Steigerwalt.
"You're talking about a sophisticated woman who's captain of the best tennis team in the country ... and they are treating her like some little know-nothing," he said.
"USC stands by its investigation and the evidence, which includes accounts provided by multiple witnesses," USC spokesperson Eddie North-Hage told The Fix in an emailed statement Monday. "As previously stated, student disciplinary records are confidential. If the students involved waive their confidentiality rights, the university will offer a detailed response."
Another spokesperson, Ian Chaffee, told The Fix he would forward a request to identify the principal investigator of Boermeester's Title IX case. The Fix did not receive a response Monday night.
Mark Schamel, Boermeester's attorney, told The Fix he could not comment Monday night.