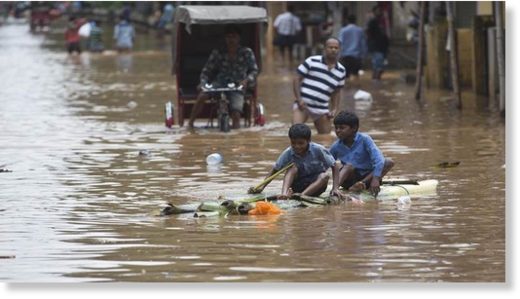 At least 14 people are feared dead and several others reportedly missing as heavy rainfall continues to lash northeastern states of Manipur, Mizoram and parts of Assam for the third day in a row. Incessant rain in the last 48 hours has triggered flash floods in many places along river banks in Manipur. The torrential rain has resulted in submerging of many low-lying areas in the Imphal valley,
including Chief Minister Biren Singh's constituency Heingang.
At present, water levels in Imphal river and Nambuk river are dangerously high and are overflowing. Several houses in Kangpokpi district were vacated because of the flood-like situation according to
Assam Tribune
. The villages in Senapati district also lost connectivity after the roads were washed away in floods.
Water has also flooded some portions of the National Highway that connect Nagaland and Manipur to Assam. Vehicular movement has been stopped on the highway as of now. Rain has also destroyed standing crops in many places. As a result, prices of basic commodities like food and water have seen a surge.
The Assam State Disaster Management had issued flood alerts in Lakhimpur, Sonitpur, Darrang, Dhemaji and Karimganj, which is expected to continue for the next 24 hours. While the water level in the Brahmaputra is on the rise, at least two of its tributaries - Jia-Bharali and Puthimari - apart from the Katakhal river in the Barak Valley, were flowing above the danger mark, Wednesday's flood bulletin said.
Kamrup (Metro) district deputy commissioner M Angamuthu said Guwahati registered an unprecedented rainfall causing widespread inundation of the entire city on Tuesday. "While three lives were lost during that period due to various reasons like electrocution and drowning, several incidents of landslide also have occurred," he said.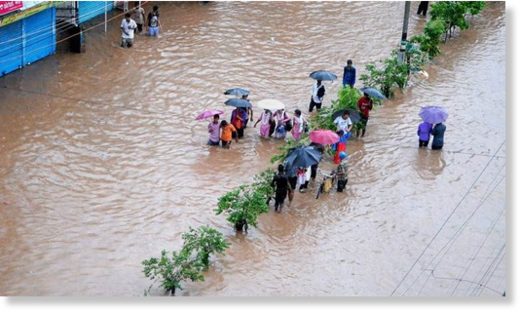 Manipur Chief Minister Biren Singh along with irrigation and flood control minister Letpao Haokip and engineers visited the flood-affected areas on Wednesday morning.
Heavy rainfall is expected to continue for another 12 hours in the three states.
The rain was triggered in the Northeastern states after a depression in Bay of Bengal entered the region, throwing life out of gear and damaging at least 400 houses.