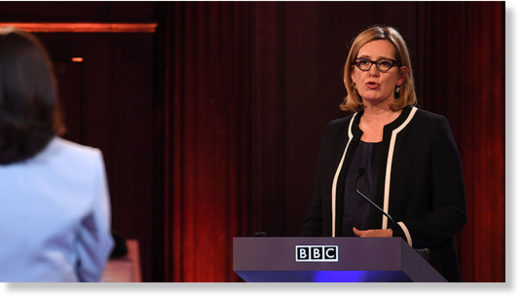 In this hustings clip, independent candidate for Hastings and Rye Nicholas Wilson is
linking the Manchester bombing to Tory support for arms sales to Saudi Arabia
. Home Secretary Amber Rudd can be clearly seen writing a note, passing it to the chairman and speaking to him. He then immediately intervenes to stop Wilson speaking and takes the microphone from him.
I don't have the name of the chairman who looks like a corrupt, overfed, complacent, Tory, Church of England vicar straight out of Trollope. But as soon as I get his name, I will publish it.
UPDATE
What is happening to the understanding of democracy in this country?
I just got a call saying the Residents' Committee of the apartment block where I live were instructing me to remove the SNP poster from my balcony (It is a small A3 poster). My reply was extremely rude, I am afraid, and I have now put up a second poster.
Comment:
RT
reports
:
Rudd was taking part in a local debate between parliamentary candidates for her seat in Hastings and Rye on Saturday afternoon.

Among the panelists was the one-time HSBC whistleblower Nicholas Wilson, also known as Mr Ethical, who is running as an independent candidate in the southern English seat.

Replying to a question about "law and order," Wilson began to speak about Prime Minister Theresa May's alleged links to international financial institutions and the regime of Saudi Arabia, which the Conservative leader visited in April.

In his attack on the Conservative government, Wilson said May's visit to Riyadh included "selling arms for BAE Systems and doing other business for HSBC."

"

Saudi Arabia are the country responsible for IS

[Islamic State, formerly ISIS/ISIL] and they support IS," Wilson claimed during the debate in St Mary's Church, Rye.

However, when Wilson claimed Britain "suppl[ies] arms to Saudi Arabia," the hustings chair cut him off and asked him to change the subject.

Seconds earlier, in a moment caught on camera, Rudd was seen talking to the chair and passing him a piece of paper.

Wilson was then allowed to continue for a few more seconds, and started to say: "We are talking about Manchester. That is why MI5 are sending kids from Manchester to Libya and..."

But when he is again stopped, Wilson cries out "am I being censored?" and the crowd is heard complaining.

"OK, so, soft on crime, soft on the causes of crime. They want to abolish the Serious Fraud Office which is independent, so that Amber Rudd can then be in charge of prosecution through the National Crime Agency," Wilson went on to say before handing over the microphone.

The chair, who is unnamed but is seen in a clerical collar, then stops the intervention on the basis that it was a "personal attack" he wanted to avoid.

"Why? Come on," a member of the audience heckled.

"People don't know about these things because of censorship," Wilson says before the chairman takes the mic.

The video was shared online the following day and quickly went viral, with over 300,000 views on YouTube in one day.

"Censoring a political opponent, with a valid viewpoint, which is not a personal attack, is a new low for the Tories," a Twitter user named Nick Collins wrote.

Comedy writer Graham Linehan echoed the feeling of injustice, tweeting a link to the video with the caption: "Still can't get over Amber Rudd shutting this guy down so brazenly."

RT contacted the Conservative Party for a comment.