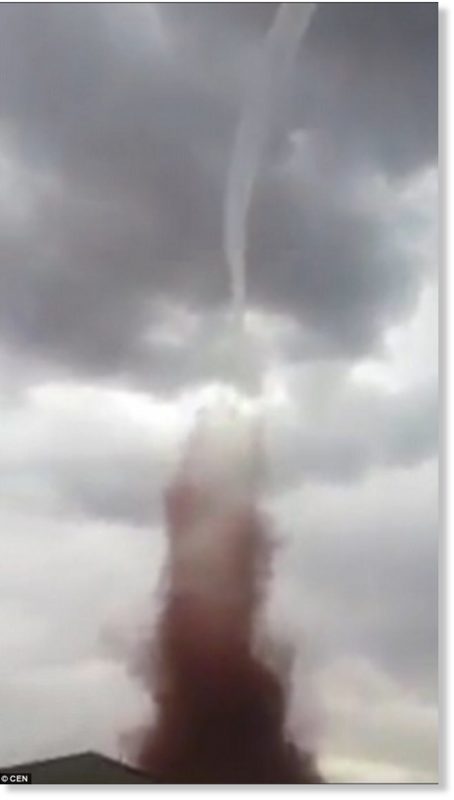 A giant tornado tore through a Mexican town, terrifying locals who feared it was 'the end of the world'. Locals filmed the dramatic weather event in the town of Sainapuchi, in Mexico as it ripped panels off roofs and drew up sand and dirt into its vortex. Witnesses feared that it was the 'end of the world' they said, so violent was the swirling tornado.
But although residents were terrified by the event, luckily nobody was badly injured. The unusual tornado - which is known as a 'snake'- has a conical shape connecting both ends of the wind swirl as it spirals high into the sky. The State Civil Protection Coordination service said that is called a 'feeder' or energy feeder.
Additional images
One female witness can be heard exclaiming 'oh my God' as the tornado swept through her town.
Another onlooker, named Evelin Alvarez said: 'It is the end of the world' while Irene Ontiveros added: 'My grandparents talked a lot about 'snakes.'
Buildings in the town were damaged by the large tornado but no one was injured.
A tornado is a violent rotating column of air which extends from a thunderstorm to the ground.
The most violent tornadoes can have wind speeds of up to 300 mph and are capable of tremendous destruction.
Another tornado was later spotted in the nearby town of Huejotzingo, in the state of Puebla.
13 people were killed when a tornado hit the city of Ciudad Acuna near the US border in March, 2015.