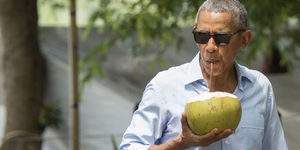 Donald Trump makes his European debut as US president this week just as his predecessor, Barack Obama, returns to the continent for his first visit since relinquishing the White House in January.
While apparently unintentional, the coinciding visits serve to highlight Europe's radically different view of the two men. A Pew Research Center survey last June found 77% of Europeans had confidence in Obama - and 9% in the man who has now succeeded him.
The contrast will come into sharp focus on Thursday, when
the current and former presidents have parallel public engagements in Europe, providing a split-screen comparison between their extreme differences
.

Comment: Which is exactly why this is no coincidence.


Trump, on his inaugural foreign tour, which has also taken in stops in Saudi Arabia and Israel, has a lunch date with the newly elected French president, Emmanuel Macron, in Brussels. He's also got meetings and a dinner with EU and NATO leaders.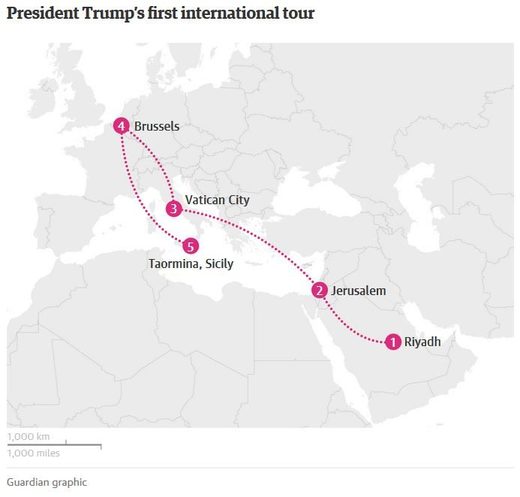 Obama will deliver a speech alongside German chancellor Angela Merkel at Berlin's Brandenburg Gate. The Obama Foundation says the invitation from Merkel came before the US election, so the fact that he is in Europe as the same time as Trump is pure coincidence.

Comment: The Obama Foundation... is that like the Clinton Foundation? If so, it's corporate political lobbying by other means, and thus meddling in US foreign affairs.


Europeans are already wistful in anticipation. Pictures of Obama on holiday in Tuscany with his wife, Michelle - relaxed and smiling in an open-buttoned shirt - have only heightened the sense of longing for a president whose rationality, sophistication and emotional intelligence often contrast with his successor.

Comment: ...among relatively affluent liberal-cosmopolitan city-dwellers, perhaps.


Regarding Obama's Berlin visit, the highpoint of a season of celebrations to mark the 500th anniversary of the Protestant church, the
Leipziger Zeitung
wrote that his presence in Germany would be like that of a "healer".

Comment: A divider, more like; his presence is meant to accentuate the divide between said liberal-cosmopolitans and ordinary working people.


"Already he is a painfully missed ex-president,"
the newspaper wrote
in an editorial, describing him as an "eloquent, charismatic preacher" - qualities it suggested were sorely lacking in Trump.

Comment: ...'the newspaper wrote', not 'the people said'. It's more echo-chamber nonsense.


Obama and Trump have not met or spoken since the inauguration, and that seems unlikely to change, especially since Trump repeatedly accused his predecessor - without any evidence - of having him bugged during the campaign.

Comment: Not true; the security services were obviously monitoring Trump's communications, hence their 'Russia-gate'. When Trump accused Obama of ordering it, he was merely following protocol of assuming that the president is the commander-in-chief and thus ordered the illegal surveillance of Trump. Everyone understands now that the deep state doesn't take orders from the president, but for the liberal-cosmopolitans to equivocate on this point merely enhances the lie that the president is in ultimate command of the state apparatus.


Obama has stayed on in Washington while his youngest daughter, Sasha, finishes high school and he raises funds for a presidential library and museum on the South Side of Chicago.
The Obama Foundation has ambitions to promote civil society in the US and around the world, combat climate change, narrow inequality, and pursue conflict resolution
.

Comment: In other words, it is another Clinton Foundation, a political slush fund for Obama's continued political career influencing politics via lobbying. Obama is being 'paid-to-play', hence his trip to 'steal the limelight' from Trump in Europe.


Meanwhile,
Obama has also spent a lot of his time since leaving office on an array of luxury island and seaside resorts
, posting sunny and smiley images of himself having fun with the global jet-set - somewhat to the irritation of many of his supporters left despairing in Trump's America.

Comment: Like we said, slush fund.


At the 18th-century arch in Berlin that has also heard celebrated speeches from Ronald Reagan and Bill Clinton, Obama and Merkel will take questions about shaping democracy from a teacher, an actor, a social worker and a student.

Comment: They'll talk to 'the little people', then do everything to further the interests of only liberal-cosmopolitans like themselves, to the detriment of said 'little people'.


In 2008, 200,000 Berliners came to hear Obama - then campaigning for the presidency, and barred by Merkel from speaking at the Brandenburg Gate - tell them: "This city, of all cities, knows the dream of freedom."
Eight years later, he addressed
an invited audience
of 6,000 on his final trip to Europe as president, and told the chancellor - whom he described during his term as "my closest international partner" - that she was "on the right side of history".

Comment: No, if she isn't careful, she'll end up on the wrong side of history, like Obama. Note that 'the little people' actually believed Obama had their interests at heart in 2008; by the time he was done abusing their interests, his team had to select liberal-cosmopolitan types only, lest the echo-chamber be rudely interrupted by voices of truth.


Obama and Merkel ended up forging a genuinely close bond during his presidency, finding common ground over issues such as Russia's annexation of the Crimea, the European financial crisis and the refugee crisis.
While they differed notably on how to tackle the Islamic State, the former US president also developed a close working relationship with France's ex-president François Hollande, particularly in the wake of the 2015 Paris terror attacks.

Comment: And look how he ended up; the least popular French president ever; so unpopular, he couldn't plausibly run for office again.


Obama told Hollande after the attacks that Americans "love France for your spirit and your culture and your joie de vivre ... When tragedy struck, our hearts broke, too. In the face of the French people, we see ourselves.
Nous sommes tous Français
(We are all French)."

Comment: Empty words coming from the 'commander-in-chief' of ISIS militias.


By contrast, Hollande said that Trump's excesses "make you want to retch". Merkel greeted Trump's election by making future cooperation dependent on his accepting "democracy, freedom, respect for the law and human dignity irrespective of origin, skin color, religion, gender, sexual orientation or political views."
The German chancellor's meeting with the new US president at the White House in March was notable for its awkwardness, with Trump appearing to refuse to shake Merkel's hand and the two failing to disguise deep differences in policy and style.
But Trump - who is expected in Germany for the first time as president in July, when he visits a G7 summit in Hamburg - and Obama both come to Europe with the continent in a more optimistic mood than it has been for many months.

Comment: Oh really? And how did you gauge that? Did you poll select liberal-cosmopolitans? In la-la-land, 'Europe' may be optimistic. In reality, 'Europe' is edging closer to chaos.


Fallout from Europe's migration crisis, bloody terror attacks in France, Belgium and Germany, persistent economic woes and the shock of Britain's vote to leave the EU - not to mention Trump's election - had left the bloc shaken and fearful.
The prospect of the same populist, nationalist forces that led to Brexit and Trump sweeping to victory in elections in Austria, the Netherlands and France prompted real concern for the EU's future.
European fears were further deepened by Trump's apparent fondness for Russia's Vladimir Putin, and his suggestion that the US might no longer give unconditional support for NATO - the security umbrella that for 60 years has made EU stability and prosperity possible.
Comment:
Aha, so Europe would not be where it is if it weren't for Big Brother America? Even if we accept that that is historically true, how exactly do NATO's post-9/11 wars of aggression in neighboring regions and its GLADIO-style false-flag terror attacks in Europe contribute to EU stability? The only sense in which that is true is that 'stability' for Western elites means 'keeping people bound to us by fear'.
As for EU prosperity, the 'austerity' forced on Greece, Ireland, Portugal, Cyprus and Spain is the direct result of the EU being ideologically bound so tightly to the US that the fallout from the 2008 financial crisis on Wall Street deeply affected both the US and the EU.
The one EU economy that
is
doing well is Germany, and there the US has other means to
dampen
- not increase - its prosperity:
Die amerikanische imperium: German car emissions 'scandal' is a petulant act of industrial sabotage
But the political risk seems, for the time being, to have been been averted, most significantly in France. After a decisive victory over Marine Le Pen in the French election, Macron quickly established a rapport with Merkel - who herself looks increasingly likely to win re-election this autumn.

Comment: Again, this 'decisive victory' took place in la-la-land only. Even if we accept the official results, the amount of manipulation and influencing of the French voters - all of it projected onto Russia of course - that was required to produce that result only papers over the underlying distrust of ordinary people towards the elites. It hasn't gone away you know!


Trump's deepening domestic travails, meanwhile, contrast with steady progress on EU defense cooperation and an improving eurozone economy, which have left Europe in a more bullish mood.
It will welcome Obama - who after Berlin visits Edinburgh to address philanthropy and business leaders - with nostalgic warmth.

Comment: Pass the sick bag...

Obama can bring all the 'nostalgic warmth' he likes to Edinburgh. It won't hide the fact that Scottish independence is again breathing down London's neck.


Trump's erratic and at times aggressive stance on the EU and NATO remains
a major source of concern in EU capitals
- as does the worry that the US president may be tempted to act tough abroad to compensate for his domestic problems.

Comment: ...in EU capitals, among the liberal-cosmospolitan elites, not among the ordinary masses, who agree with Trump that NATO and the EU either have to go, or be radically 'regime-changed'.


Europe has set a low bar for what will constitute a successful day with the highly unpredictable president. But understandable pre-visit nerves may be at least tempered by the feeling that the bloc is better placed to assert its significance as a transatlantic partner than it has been for some time.